US Congressman Tells Ortega its Hold Early Elections or Face Further Sanctions
By Lucía Navas (La Prensa)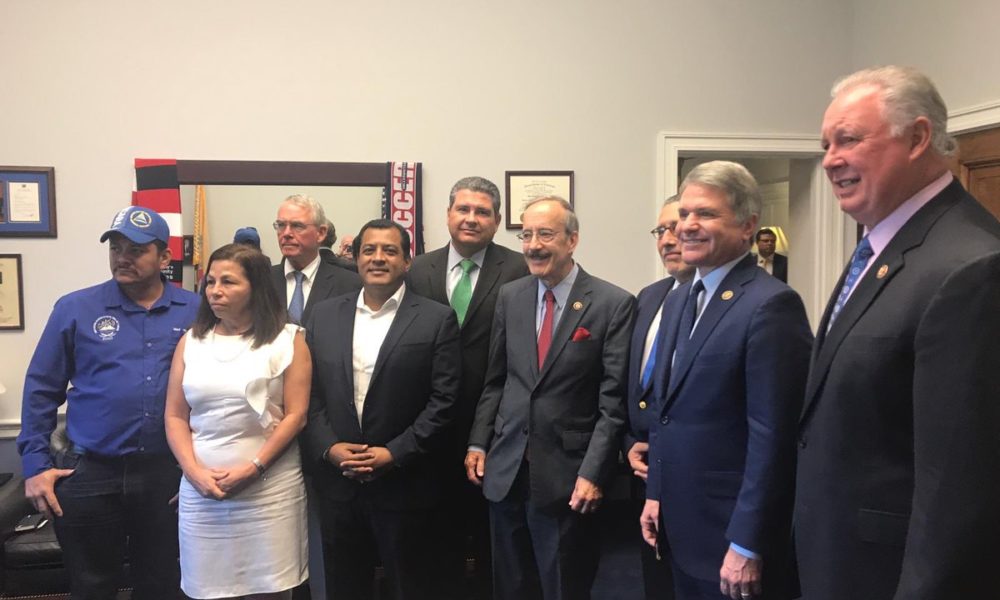 HAVANA TIMES – Albio Sires, Chairman of the US House Foreign Affairs Subcommittee on the Western Hemisphere, Civilian Security and Trade, issued a new warning to the Nicaraguan dictator, Daniel Ortega, demanding that he restore respect for human rights and hold early elections in Nicaragua, or "face further sanctions".
Congressman Sires (D-NJ) issued a strongly worded statement following a bipartisan meeting between members of Congress and a delegation from two of Nicaragua's opposition groups – the Civic Alliance and the Blue and White National Alliance. The opposition groups received promises from members of Congress that they will continue to pressure the Ortega regime until democracy is restored in Nicaragua.
"We must send a strong, bipartisan message to Ortega and his cronies: cease this repression, allow international human rights monitors to visit the country, and hold early elections or face further sanctions," stated Sires.
Others attending the September 27th meeting with the Nicaraguan opposition leaders included Congressman Eliot Engel (D-NY), Chairman of the House Committee on Foreign Affairs; Congressman Michael McCaul (R-TX), Ranking Member of the House Committee on Foreign Affairs; and Congressman Francis Rooney (R-FL), Ranking Member of the Western Hemisphere Subcommittee.
"I continue to stand shoulder to shoulder with those brave Nicaraguans who are risking everything in their pursuit of freedom and dignity," stated Sires.
He accused Ortega of authoritarian rule, holding him responsible for the "needless suffering in Nicaragua, the second poorest country in the Western Hemisphere".
"Ortega and his thugs killed and tortured hundreds of peaceful protesters last year and are now carrying out targeted attacks against rural land-rights activists," denounced Congressman Sires, after hearing reports from the opposition groups on repressive tactics carried out by the Ortega regime against Nicaraguan citizens.
Citizen protests that began in April 2018 were met with bullets from shock forces, paramilitary and by the Ortega Police, resulting in at least 328 murdered, thousands of wounded, more than a thousand political prisoners and tens of thousands in exile due to the economic crisis and the de facto state of siege imposed by the Ortega regime.
The US House and Senate approved the Nica Act which imposes a series of political and economic sanctions against the Ortega regime as a response to the violation of human rights, corruption and a rupture of the democratic process during its 12 years in power. Those sanctions imposed a blockade on financial cooperation between international organizations and Nicaragua, and with some of the regime's officials as well. The mechanisms for applying the Nica Act were activated a few weeks ago by the US.
Sanctions have also been imposed by the US against 11 officials within Ortega's circle of power, among them: Ortega's vice-president and wife, Rosario Murillo; their son, Laureano Ortega Murillo; another son's father-in-law, Francisco Díaz, who is also the head of the National Police; and Gustavo Porras, President of the National Assembly. The enterprise known as Albanisa, S.A., which controls the petroleum business between Venezuela and Nicaragua; and the Banco Cooperative, S.A. (Bancorp) have also had sanctions levied against them.
The strongly worded declarations voiced this week in a press release by Congressman Sires, reiterates calls for Ortega to cease repressive tactics against peaceful protestors, social leaders and political opposition members. It further notes that the US Administration is preparing new sanctions against the Nicaraguan regime.
A United Opposition is the Solution
In a similar tone, Eliot Engel, Chairman of the House Committee on Foreign Affairs, stated that "Congress will not turn a blind eye to Daniel Ortega's constant violation of the Nicaraguan people's human rights."
"There is no doubt that these are dark days for human rights and democracy in Nicaragua. But I also believe that there is reason for optimism for the country's future. Meeting with Nicaragua's unified opposition leaders today gave me hope that brighter days are ahead. The Nicaraguan people can continue to count on Congress' bipartisan support for a return to a full democracy in the country," said Congressman Engel.
The Civic Alliance and Blue and White National Unity opposition groups have formed a strong coalition which has been enthusiastically received by the US government, Congress, human rights organizations and the Organization of American States (OAS), with which meetings were held this week.
"I was proud to meet with the leaders of Nicaragua's democratic opposition. I commend them for their bravery and leadership in the face of the Ortega regime's abuse and repression. I will always stand firmly with the freedom-loving people of Nicaragua in their struggle for free and fair elections, and demand justice for the victims of human rights abuses at the hands of this brutal dictatorship," stated Michael McCaul, Ranking Member of the House Committee on Foreign Affairs.
Congressman Francis Rooney, Ranking Member of the Western Hemisphere Subcommittee in the House of Representatives, celebrated the "commitment to unity" of Nicaragua's opposition leaders "against the Ortega regime and his murderous cronies."
"The people of Nicaragua deserve freedom, democracy and the right to free and fair elections. I stand with them in their struggle for a peaceful transition to democracy for Nicaragua," declared Rooney.
The delegation of members of the opposition also held a working meeting with a high-level OAS commission created to manage a peaceful end to Nicaragua's sociopolitical crisis which began 17 months ago. The Ortega regime prohibited the arrival in Nicaragua of this high-level commission, accusing it of foreign interference, which elevated conflicts with the international community.
Ortega refuses to return to dialogue with the Civic Alliance, seeking instead to agree on electoral reforms with the OAS, for elections in November 2021.