How Primary School Hours Trap Parents in Cuba
By Osmel Ramirez Alvarez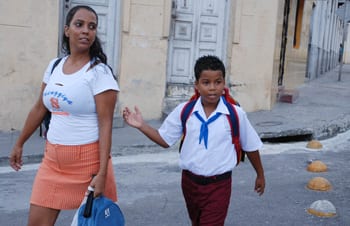 HAVANA TIMES — A few days ago, I wrote an email to a friend of mine about how bothersome it is to keep your kids in school here in Cuba, in spite of it being free.  Suddenly, I got the idea of writing about this subject and I discovered that there is a lot to talk about, but I would like to put emphasis on the responsibility of having to take them and bring them home. I believe that this merits an analysis and it would be good to share our experiences.
In Cuba, "the double session", that is to say children go both in the morning and the afternoon, has been put into place in primary education. This is a more viable option in schools that operate as a semi-boarding school, where they give children and teachers lunch and snacks. In order to enrol in these schools, both parents must work for the State. However, as almost always happens in this country, "the demand still hasn't been met"; and to top this off, it doesn't include independent workers, who already represent a significant minority of our country's active workforce.
The rest of Cuban schools, over 90% more or less, have this double session, but they don't give lunch and children have to go home at midday and then go back to school promptly. That's four trips a day in total. The Cuban sun is a burning bonfire and moving children around at 12:30 PM and then again at 2:30 PM, on foot or by bike, is a torture similar to that which slaves had to endure out in colonial sugar plantations.
Here, public transport is superlatively insufficient, when it's not non-existent; on the other hand, nearly nobody has a car and the people who do, don't use it for this. At this time of the day, they are using it as a taxi and with fuel as expensive as it is, only a select few can give themselves the luxury of using their cars regularly. In this country, a car is rarely exclusively used as a personal mode of transport; it's almost always a business. On the contrary, you wouldn't be able to keep it running. Everybody walks with their kids on their back, on the burning pavement in the best of cases, when it's not a slope full of holes which flood with rain.
The least bothersome trip is the one in the morning, but at 4:30 PM, the sun is still high up in the sky. Everyday, I do this: four trips to school. I watch groups of parents, grandparents or people responsible who do the same and I think about two things: first of all, that this really is slavery having to do this for the seven years that primary school lasts; secondly, that no country can make progress when people have to invest so much time in banalities.
I say "banalities" but I'm not referring to our children's education. Of course I'm not. But to the fact that we use not just our children's and teachers' time, but also parents' time for this noble purpose, in such a consuming manner. Who can be productive like this? These four journeys complicate anybody's day, without having the conditions to do so, and keeps them stressed all day. It's an inevitably great responsibility that doesn't involve just a few hundred people, but hundreds of thousands of people. The person who invented the "double session" in this country must have had his brain burning.
Surely it's another national sacrifice in pursuit of reflecting better statistics that show off our false well-being and development in the face of the world and surely the "idiots" who designed it this way move around in modern cars, have their kids in semi-boarding schools and their drivers are responsible for doing this so they are never stressed.
I personally feel enslaved by this education model and the way it's been organized. I do this everyday for my children, but I don't stop thinking about this ridiculous and unnecessary waste of time. If we were a normal country, we would pay for a school transport service which would come to our front door; and if the school can't feed our children, I'm sure somebody would offer this service with quality guarantees for an "accessible" price which we could all pay.
How will our beautiful Cuba make progress with so much time lost unnecessarily in school trips, lines, bureacracy and the poor functioning of everything? All you have to do is stand in front of a Cuban school at midday, while we parents wait for the bell to ring: comments are heated. Some are nervous because of the pressure cooker they've left on the stove, others because they've escaped a few minutes from work, others because they don't have an umbrella and the sun is burning them. However, the most common phrase heard is: "this isn't easy, nobody should have to put up with this."
There's no doubt about it, the most difficult thing about having children in our country isn't how expensive and how hard everything is, or the work they give us when they're still small babies and they depend entirely on us; none of this compares to when they have to go to school, when these four daily trips to school come about, under our tropical sun, for seven long years.
Whoever hasn't experienced this can say what they want, but for me, who suffers this on a daily basis, this is the most eloquent forms of what I would call "new slavery in Cuba", which doesn't stem from our salary problem and the situation of our working class, but which undoubtedly has many roots.