A Pink-Colored Town in Central Cuba
From the recently concluded Havana Film Festival
By Yusimi Rodriguez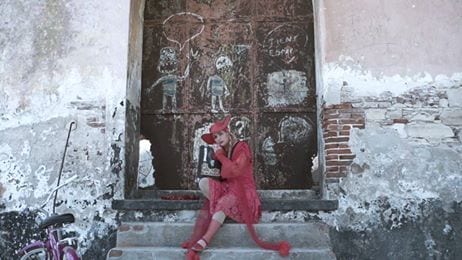 HAVANA TIMES — Finally, the long-awaited Cuban documentary "Villa Rosa" by Lazaro J. Gonzalez, premiered during the 38th edition of Havana's International Festival of New Latin American Cinema. Just like many other screenings at the Festival in the "Los colores de diversidad" (The colors of diversity) section, it drew a full audience at the Multicine complex on Infanta St.
The structure of Villa Rosa is very similar to that of so many other documentaries, drawing from the testimonies of several homosexual men in Caibarien, a town in Villa Clara province. Among those interviewed was a transgender woman, Adela, the first to be elected representative of the local People's Power. A while back the woman gave an interview to journalist Fernando Ravsberg which was published on Havana Times.
By using different interviews, Lazaro J. Gonzalez reveals, in 50 minutes, the respect and acceptance of Caibarien's residents towards sexual diversity. Strangely enough, the majority of this fishing town's inhabitants don't have a high level of education, according to one of the people interviewed. Another strange fact is that the CENESEX and its director, Dr. Mariela Castro, don't seem to have had anything to do with this level of acceptance, which has even led to a homophobic-free block being declared. The CENESEX and its director are only mentioned once in the documentary, when Adela claims that she has been tolerated in many spaces because of her relationship with Mariela Castro.
Nobody thinks that everything is rosy in this town. The interviewees question the fact that same-sex marriage still hasn't been approved and they talk about what not being able to get married means to them. Adela herself, a nurse at the health clinic tells us that her director calls her by her masculine name and forbids others to call her Adela at work.
Adela says that "her people" (referring to homosexual people) do CDR surveillance rounds, voluntary work, everything, "however, they don't have a right to anything". (But shouldn't the Cuban people's rights, homosexual or not, be subjected to their level of adherence to the so-called "revolutionary process"?
One interviewee demands that the Constitution be changed, who believes that it went out-of-date in 1976. Is he only referring to the chance that two people of the same-sex might get married, or is he also talking about adopting children? Wouldn't it be fair to ask ourselves what other changes our Constitution needs, so that all of our rights can be recognized and respected?
In Lazaro J. Gonzalez's documentary, there are moments of laughter and other moments which invite us to reflect upon the past (less well-known that one of the interviewee's claims), the present and the future of people who deviate away from the heterosexual norm not only in Caibarien, but in the whole of Cuba.
However, it would have been convenient to have also listened to accounts from heterosexual people, old people, children, teachers, police; to see what the real extent of this acceptance is in reality, compared to what homosexual people understand it to be.
To what extent is the town pink-colored? One of the interviewees, a float decorator during the annual Carnival claims that the fact that he's gay has been an advantage and that people prefer to use his services because of this. Isn't this another way of perpetuating stereotypes? Would people accept a gay teacher in the same way?
Another question that I couldn't help but ask myself from half-way through the film was whether there were any lesbians in Caibarien. The documentary ends without showing any lesbians among those interviewed. Aren't there any? Don't they want to be interviewed? Or is the director only interested in Caibarien's gay people, and Adela, who also refers to herself as a homosexual at times?
In spite of the inconformity that this film might leave, it is always worth seeing any kind of film that deals with these subjects, especially in a country where it has been taboo for so long and where differences (not only sexual and of gender identity) have been highly persecuted.