Are the Spanish Returning to Cuba?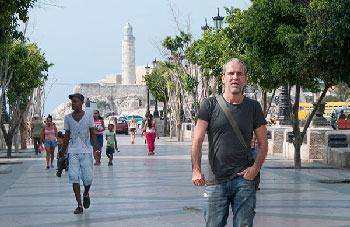 HAVANA TIMES — "Every time I'd defend the Cuban revolution, people would retort: if you like it so much, why don't you go live in Cuba?" Spanish actor Willy Toledo tells me, adding: "now that I've actually moved to Cuba, they're going crazy, because there's nothing they can say to me anymore."
Though a number of Spanish newspapers affirm he lives in a mansion, Toledo in fact lives among Cubans in a working class neighborhood, in a modest rented apartment that could use some more furniture and a new coat of paint.
"I don't need anything else. I have my bed, my kitchen, my bathroom and my books, and I'm getting along just fine with that. I don't tend to miss material things. I do miss people, and my city. I was born and have lived in Madrid my whole life and I am much attached to it, even though it's become something of uninhabitable city."
The Spanish right-wingers accuses Toledo of having many privileges denied Cubans, but the truth of the matter is that, in his own country, he also lived better than most, having been born to a wealthy family and earned a lot of money as an actor. "Of course, no one questioned that at the time," he says to me, smiling.
He acknowledges that, in Cuba, having money can open certain doors and afford access to certain luxuries, but not all of them. He again laughs when he says: "You can spend days looking for a frying pan, and you still won't find it, no matter how many euros you've got."
He feels better in this Cuban reality than that of the tourist. "I enjoy experiencing Havana one day after the other, going to the movies, the theatre, to concerts, to dinners at friends' houses. I have more time to read now. I didn't have the time in Madrid, and I'm reading like mad now."
I remind him that his native city is a hectic European capital and ask him how he is faring in Cuba's peace and quiet. He replies that, today, his nights out consist in buying the occasional bottle of rum and "going over to a friend's or the Malecon seawall to bend an elbow."
He adds that, "there's plenty of life in Havana, there are things to do every day. I do miss having an entertainment guide, like they've got in Madrid (…) but I always find out what's going on anyways. In fact, I don't have the time to go to all the places I want to."
Playing Dominoes
By the looks of it, Toledo is not having a hard time adjusting. In fact, "it's fairly easy. I've travelled across Latin America (…) and I think Cubans are a lot like Spaniards, in the way they speak, their sense of humor and the way they relate to others."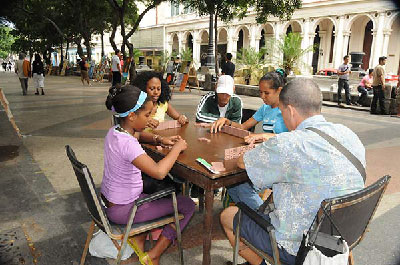 He tends to avoid the old town, because they treat him like a tourist there. However, "I love to go to the kiosk next to my apartment to have a fruit juice in the morning, and the one across the street, to have an omelet sandwich, or just sit on the terraces where regular Cubans sit."
He assures me he doesn't even have any qualms about Cuban cuisine. "I like traditional Cuban food a lot. I've always liked it, not only Cuban food, but also Caribbean food. What I like the most is the rice there's no shortage of it here!"
Known for his sympathies towards the Cuban revolution, the actor tells me he has discovered Havana's charm. "In Havana, I've found one of the most beautiful cities in the world and by far the safest I have known."
Toledo may be one of the more famous foreign residents, but he is by no means the only European to have immigrated to Cuba. Another Spaniard, married to a Cuban, has just moved into my neighborhood, a few blocks from where I live. They have just bought a small house with the money they put together from selling a business that barely gave them enough to live on.
Years before, his wife had secured Spanish residency through their marriage. Ironically, today it is he who is availing himself of their marriage to be able to reside on the island, where they can live better with far less money.
A few days ago, I was treated to a lunch of homemade ravioli prepared by an Italian whose Cuban wife returned to Cuba to wait for the European crisis to blow over. Seizing on the opportunity afforded by Cuba's reform process, they plan on opening up a cooperative that will sell fresh pasta in Havana.
Securing Cuban residency, however, is no easy task. The immigrant must be married to someone with Cuban nationality or be hired by a company based on the island, and even then, many residents (myself included) have lived in the country for decades with a temporary permit that must be renewed every year.
—–
(*) An authorized Havana Times translation of the original published in Spanish by BBC Mundo.