Balloons Scare the Pants Off the Rulers in Nicaragua
By Circles Robinson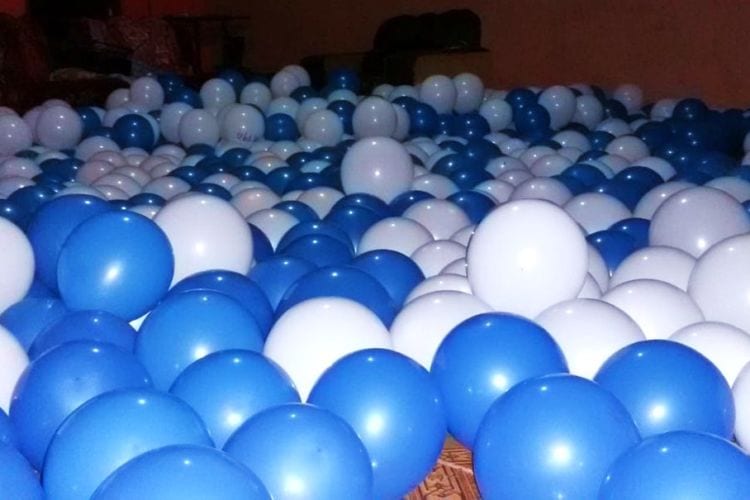 HAVANA TIMES – While the paramilitary killer of Brazilian med student Rayeina Lima was being released from prison and given a clean slate on Tuesday, five women in the city of Leon were arrested for putting balloons outside one of their homes.
The fact is, in Nicaragua reality far surpasses any fiction.
The blue and white balloons, color of the Nicaraguan flag, are considered instruments of terrorism by the government of Daniel Ortega and Rosario Murillo. Thus, anybody caught blowing up or exhibiting balloons is subject to harassment and arrest.
The latest to feel the whip of the repression were five women in Leon on Tuesday. They were arrested by the Ortega police, without a warrant, for hanging blue and white balloons outside one of their homes, former political prisoner Byron Estrada told La Prensa newspaper.
The women arrested were Alma Nubia Delgadillo Rodríguez, Michelle Delgado Delgadillo, Patricia Abaunza, Ana Patricia Toruño and Rocío Buitrago.
Estrada said the women had gathered at the house of Alma Nubia where they hung the balloons. The arrest took place around 2:30 pm. A group of residents camped outside the police station, risking being arrested themselves, in demand of information on the detained women.
Other detentions were reported in other Nicaraguan cities, also for the "serious crime" of hanging balloons, noted La Prensa.
The blue and white colors of the Nicaraguan flag have since April 2018 represented the civic struggle against the Ortega regime, which maintains a de facto nationwide police state since last September.
Meanwhile, in Managua, an appeals court ordered the release of Pierson Gutierrez Solis the only gunman accused for any of the 326 killings attributed to the Ortega paramilitary and police forces. Gutierrez was summarily tried and sentenced for killing a Brazilian medical student on the night of July 23, 2018.
In the end, between the citizen pressure in the street and the ridiculous nature of the supposed "crime", the five women in Leon were let out around 6 p.m., said Byron Estrada.