Alberto N Jones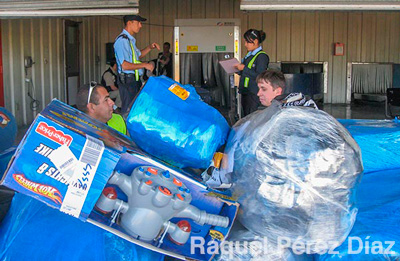 HAVANA TIMES — The content of a video that has gone viral on social media is shameful, degrading, unprecedented and insulting to any Cuban no matter where they are. The video shows airport security guards, customs and immigration officials in a clumsy argument with two Venezuelan passengers on the runway at Jose Marti international airport.
How can the image of our country and the respect we have for international laws be put on the line in such a manner? We can't let the country fall to such low levels, without demanding that the corresponding authorities take the subject at hand and eliminate the causes which lead to these events, which tarnish the country's reputation with colorfast ink.
Cuban citizens have by default accepted how Cuban Customs (unlike Customs in the rest of the world) have imposed a draconian price increase on their belongings and how easily they can confiscate these same belongings, not having to take account for their actions, instead of implementing a tariff system which depends on the type, quality and quantity of whatever is being imported.
I have personally seen how foreign tourists carrying extra baggage are let off paying these fees, which might have been what contributed to the unfortunate incident with the Venezuelan women.
In many underdeveloped nations, it's common to see citizens transporting excess baggage for commercial reasons or to meet their family's needs. The Bahamas is the best example we have in our region and Cabotaje companies offer door-to-door services to every Caribbean island for $1-2 USD per pound instead of the $10-12 USD per pound which "Authorized Agencies" charge, ripping off ordinary Cubans and filling certain people's pockets.
In Cuba, Latin America and the world's pride and joy to many, there have been basic shortages for many years now (because of external and internal factors), which include medicines, clothing and foodstuffs. Stores that sell in regular Cuban pesos no longer sell anything or sell very little and it has been proven that the quality of items at hard-currency stores isn't always that great and their disproportionate prices exclude the majority of the population from being able to buy them.
The love millions of people abroad have for their relatives in Cuba is greatly appreciated when they send these articles which help to lessen their needs. Instead of facilitating our people receiving things that the State has no way of providing at a reasonable price, why are they imposing a tax and limiting how much can be brought into the country?
It's cruel and doesn't make any sense. After weeks of preparing gifts that we will take to our families and paying excess baggage fees at the place we depart from, travelers arrive in Cuba afraid, shaking, with high blood pressure and some even pass out, in the face of Customs' harassment, pressure and robbery, seeing us as the enemy, instead of for the solidarity and commitment we have assumed for our relatives, friends and neighbors in Cuba for over 20 years.
Call them "mules" or whatever you like, while these people aren't transporting harmful materials into the country, they should be seen as important agents whose actions side-step the objectives of the US blockade every day, instead of being disgraced and converted into criminals, when many of these people use this resource to be able to visit their families, due to their limited financial means.
Cuba's General Customs and the control points on roads should not continue to be the US blockade's best ally, as a result of its indifference, strict rules and the pleasure which they take in preventing personal items, food or devices that don't exist in Cuba from entering the country and seizing what US Customs' themselves never prevented from being exported.