By Fernando Aramis
HAVANA TIMES — "There isn't a surer thing than the day after tomorrow," an old saying goes. How was I going to believe that the hopes I had back in 2004, which I had imagined so many times before, would come true!
I would now like to go somewhere where I can have a good old Cuban chat and eat a fine Cuban dish of ours! But not somewhere with ostentatious gestures and eccentric prices. But an affordable place for everyone, or nearly everyone.
– I longed for those times.
Everything came about as a result of the exodus of Cubans to Ecuador which took place in 2008, when the Ecuadorian government allowed Cubans to enter the country without the need for a visa. Cubans came in droves, some to continue on their journey to the United States and others to stay and build a life protected by the Andes. Many sold everything they had in Cuba to come and try their luck in La Carita de Dios, Quito city.
Then, a flood of businesses began to open. Travel agencies, car repair shops, restaurants, cafes, bakeries opened up and then there were people who dedicated themselves to buying clothes, to then resell them for a juicy price on the island. A business which continues to exist today and continues to rake in great returns.
Doctors, intellectuals, criminals, business people, athletes, teachers… A wide mix of individuals from different social standings came and settled in Quito. And ironically by a twist of fate, the settlement formed on a street called "Florida". This happened because this main road lies just a few blocks away from Quito's old airport, which has been transformed today into Bicentennial Park, and it was practical for all Cubans who used to take clothes to sell in Cuba.
A lot has happened since then. Many Cubans are no longer here, but others have stayed and every weekend, for some reason or none whatsoever, people meet up on 8th street to share a fine bottle of Havana Club rum and to play a scandalous game of dominos.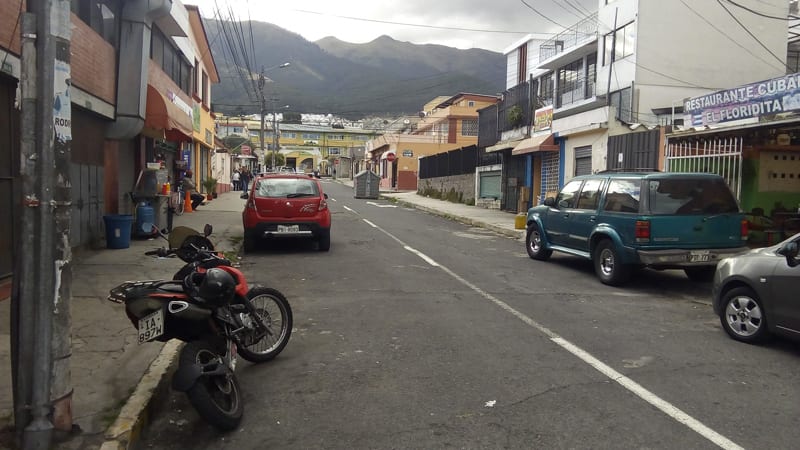 Pepe Cubela, Mario Valero, El Gilbert, Rafael Nodarse (the current president of the Association of Cuban Residents in Ecuador (ACURE), an organization that is sponsored by the Cuban embassy) and Professor Raul are just some of the people who come to 8th street, whose doors are open every day to Cubans living in Ecuador. Here, friendship and camaraderie prevail.
It doesn't matter what you think or your ideology. Whether you like reggaeton, or salsa, or timba or traditional music. Differences don't matter on 8th street and they aren't an excuse to exclude anyone.
La Ropa Vieja, El Floridita, El Ache, are the most popular restaurants. There's everything on 8th Street in Quit. Meetings, stories, dreams and one or two disagreements between friends, but fraternity rules above all else.
When you come to Quito, don't miss out on visiting 8th street so you can enjoy a delicious plate of ropa vieja or the tasty rabo encendido, delicacies of our gastronomy. Juan Paz and Mino and la Prensa is the place that the Cuban community have baptized "8th Street".
At last, after so long, my wishes came true. With the certainty that here, in spite of everything else, we are Cuban and our community is our only and extended family. That's why I say, "There isn't a surer thing than the day after tomorrow."
—–