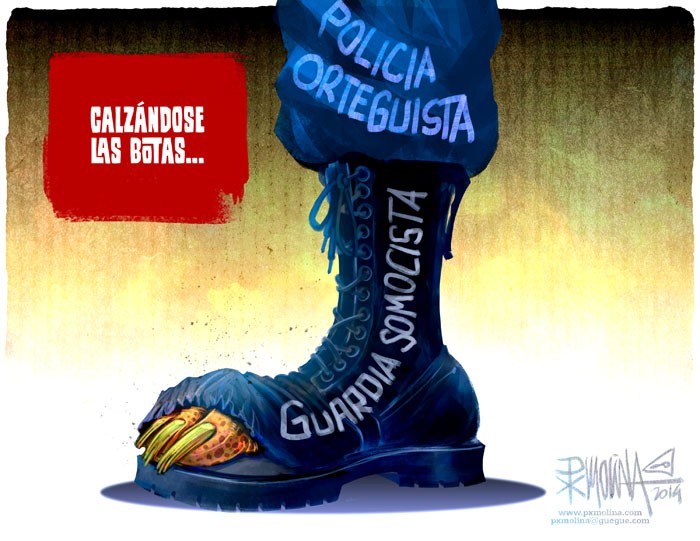 In spite of living with guns pointing at us that force us to remain hands up in Nicaragua, we are still fighting, like Ali facing Frazier.
By Edgar Tijerino* (Confidencial)
HAVANA TIMES – "There are places where you can sense the unhappiness. We know them by tasting a little of their numbed, poor atmosphere." That is what Juan Rulfo says in his masterpiece Pedro Paramo, in which, there are moments when it is not known who is dead and who is alive.
Precisely, surrounded by so many dangers and so many ghosts, watching how the pillars of power collapse slowly, but inevitably. It seems to me that we are living in other times, in which the consciences wandered aimlessly, the senses were clouded, and the sun went out, leaving only the roar of an unyielding resistance.
So, despite living in a county with guns pointing at us, which forces us to remain in Nicaragua with our hands up, we are still fighting, like Ali facing Frazier in Manila, beyond the ravages of relentless bombardment.
The "resource" of repression, is applied in excess when you have lost control of the reins and you convince yourself that you can no longer govern, just give orders by jumping on top of all institutional structures, clinging to the strings of power. In this way, you try to use fear to keep protests at bay, but that doesn't work either because the growing patriotic boldness overcomes all restrictions and cannot be subjected.
What to do to get out of this unbearable crisis? It has no answer in the spheres of power, and by dodging the difficulties they only multiply. They become a bigger problem, especially when economic issues strangle you in different ways and time does not give a truce. In the "lowlands," the only thing possible, is to resist with consistency and determination, as until now.
For now, the only sure thing is insecurity. Going out into the streets, implies taking all kinds of risks, given the dangerous mixture of repression with criminal acts.
Eleven months ago exactly, leaving his home in the San Andres residential area in Ciudad Sandino, my long-time colleague in "Doble Play" (Double Play), Miguel Mendoza, a free-thinking rebel, was robbed at five thirty in the morning, with guns pointing at him and his wife Margine. His pick-up truck, computer and cellphone were stolen, in brief, a whole heap of work.
Last Wednesday, another colleague, Camilo Velasquez, was also robbed at gunpoint at six in the morning in front of "Radio Catolica," our place of work, His car and cellphone were stolen. This is now "normal" within the abnormal situation in which we live since a year and a half ago, without it being unworthy of any concern by those in power.
It can happen to anyone and the authorities could care less. All those, without exception, subjected to the blindness depicted so well by Saramago, and the rebels of this blurry present and feared future, are "hands up," ready to be deprived of our rights and our belongings.
Sadly, and unfortunately, what we are living seems to be the product of fiction, a gloomy story of Stephen King leading to a devastating end, both painful and shocking.
Straitening the path to change depends on us, this gigantic and compact blue and white unity movement, not contaminated by politicians, beyond the fact that the wounds are still bleeding during the restoration process. This poor country cannot continue "hands up."
*Edgar Tijerino is Nicaragua's leading sports commentator