Havana One-Ups Washington on Travel
Can Obama and Romney Avoid the Issue?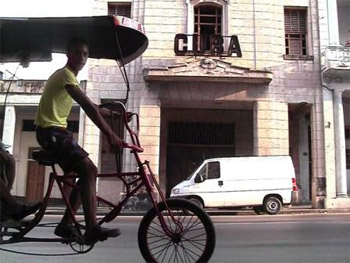 By John McAuliff *

HAVANA TIMES — Cuba's welcome announcement of the end of the exit visa travel restriction poses two challenges to the Obama Administration:
1) Political: Cuba is giving its citizens more freedom to travel to the US than the US gives its citizens to travel to Cuba. The White House should respond by using its power to allow all non tourist travel to Cuba without applying for a license, our equivalent of the White Card. It must also press Congress to abolish all travel restrictions.
2) Legal: The Cuban Adjustment Act and wet foot dry foot policy must be suspended and repealed. With Cubans free to travel to Mexico and Canada, 'step across the border' economic migration will become a bigger problem.
I wonder whether this increases the likelihood of Cuba coming up during next Monday's Presidential debate in Florida on foreign policy .
A general question will produce similar anti-regime boilerplate from both candidates.  The glaring contrast is on travel .
President Obama authorized unrestricted travel and remittances  for Cuban Americans and opened limited people to people travel for the rest of us.
Governor Romney promised Cuban American Republicans that he will return to harsh Bush restrictions on travel, once every three years for Cuban Americans, and very limited remittances, plus the end of people to people and short term student travel.
Romney's representatives tried to etch-a-sketch travel in the Republican platform because a harsh position will cost him votes among Cuban Americans, 25 % of whom visited their homeland last year. However the hard liners didn't let him get away with it as reported by the Miami Herald.
"However there is one possible omission: The [Republican] platform doesn't explicitly call for reversing the executive decision of President Obama that allowed for more travel to Cuba. Romney's camp, including Cuba-crackdown leader and former Congressman Lincoln Diaz-Balart, says no additional language is needed, in great part because Romney's campaign notes that he explicitly opposes Obama's executive decision to loosen travel and remittances to Cuba."
President Obama would have been in an ambiguous position if his Administration and Congressional staff had not broken the log jam on renewal of people to people licenses.
Presumably the Office of Foreign Assets Control was reminded it was working for the White House not for Senator Marco Rubio who had boasted of his success in sabotaging the President's signature breakthrough.
Months of politically motivated bureaucratic nitpicking seemed to have come to an end when Insight Cuba finally got its renewal.
My organization, the Fund for Reconciliation and Development, even received its people to people license after six denials.
However, other completely credible organizations have been denied renewal and action is still pending on National Geographic and the Smithsonian Institution.
The Office of Foreign Assets Control (OFAC) is reported to want to get out of the time consuming, staff diverting and image damaging business of judging and regulating the travel of Americans to Cuba.   The President has the power to make that happen.
All non-tourist purposeful travel can receive the same general license as Cuban Americans, universities and religious organizations.  That will give all Americans who want to seriously engage with Cuba the opportunity to choose between organized tours or self directed unsupervised back packing and family trips using public transportation, rental cars and privately owned bed and breakfasts and restaurants.
A petition calling for this straightforward step by the Administration can be found at http://signon.org/sign/remove-bureaucratic-obstacle?source=c.em.cp&r_by=945311
—–
(*) John McMcAuliff chairs the Fund for Reconciliation and Development
(A version of this article also appeared in thehavananote.com)