The Joy of Cuba's Oldtimers: ¡The Chicken Has Arrived!
Janis Hernández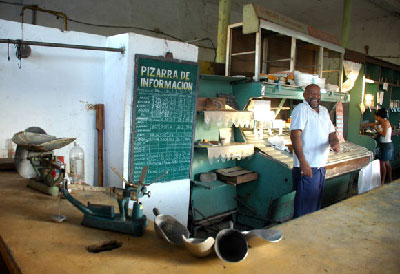 HAVANA TIMES – Like the frantic cry of "Land!" from a lookout atop a mast or the excited exclamation of a watchtower vigil, this is how the elderly in Cuba call out to let the neighborhood know that chicken has been delivered.
Without a doubt, beyond what FAO statistics may say, there may not be literal starvation in Cuba, but we are an underfed people. The habit of walking around with plastic bags in our pockets so we can bring home whatever food items might turn up has become a compulsion.
Guaranteeing our daily bread is a serious problem for most Cubans. It's getting harder and harder to obtain food to put on the table. The price of produce at the markets is extremely high for such low wage levels.
For example, vegetables, tubers, meats, and meat products are all quite expensive. The worst part is that the supply often doesn't meet the demand.
It's possible to get five pounds of rice a month at a cheap price, and two additional pounds at a higher cost at the neighborhood supply store "bodega". Also available there are twenty grams of beans, four pounds of sugar, and half a liter of cooking oil. This, along with a packet of short or long pasta per person, makes up the quota of basic rationed goods dispensed.
But protein allotment is the saddest part of the story. Five eggs, some minced soya, and seventeen ounces of chicken per month. For many, the latter produces the most anticipation.
Retired people, who are often the ones running errands for the household, keep track of what days in the month are chicken delivery days. They mark them on the calendar, they talk about it, and they get terribly stressed out if the delivery is late.
Or, if it does come but is recalled because the weight wasn't adequate. Or, if they didn't drop off their ration booklet at the counter in the supply center on time. Or, if they didn't get in line fast enough and they have to resign themselves to hearing the butcher's complacent words, "…there wasn't enough, so you'll have to wait 'til the next time around."
Getting the chicken is like an obsession for the elderly. It's their biggest concern, and I think they feel that succeeding to bring it back home is their main responsibility.
These poor old people don't talk about anything else. It's as if their lives depended on those seventeen miserable ounces of poultry. They march out to wait in line to buy the chicken like they're carrying out a significant mission.
"Hey, tell me when the chicken gets in!" is a concern for homemakers.
"I'm going to leave my ration booklet with you so you can put it in the butcher's mailbox in case the chicken gets delivered and I'm not here…" says one neighbor to the other.
"The chicken arrived!" is like the lookout's battle cry for the elderly.