Lyrics in Cuba: In the Image & Likeness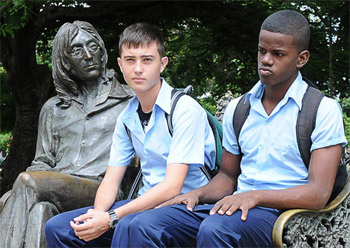 HAVANA TIMES — Important Cuban intellectuals have just signaled an alert about the sexist and machismo content of some songs being massively spread across the island, something that apparently the Cuban Institute of Radio and Television (ICRT) hasn't noticed.
Surely the folks at ICRT have been too busy censuring the recently produced music video by the duo Buena Fe, one in which two girls are kissing each other on the mouths. They ultimately agreed to broadcast that image despite the "sinful" message it contained.
But the broadcasting of songs and videos in Cuba responds also to the logic of the market. It's no secret that some music groups offer cash or other benefits for their music to be more widely featured on the radio and TV.
It's in this context that the Cuban Writers and Artists Association (UNEAC) protested, saying "unfortunately the music that fills up the soundscape here presents an obvious lack of values and results in a wide range of vulgarity."
Nonetheless, music and lyrics are a reflection of the culture and values of a people, or at least a part of them; and even if a virus has been contracted from abroad, it has clearly found a fertile "breeding ground" here in Cuba.
The fact, though, vulgarity in lyrics was present on the island long before the arrival of reggaeton. Some Cuban salsa groups had already paved the way, shaping attitudes with double meanings that were as obvious as they were offensive.
Openly promoting prostitution, a song by one popular Cuban salsa group encourages girls to sleep with older men so that they can support them – buying them jewelry, homes, cars and taking them to stores.
They go so far as to say this is the life that women have to have, while caricaturing the verses of national poet Nicolas Guillen. This is not reggaeton and it wasn't written by teenagers; the media broadcasts it and it's enjoyed by adults.
The fact that so many people dance and sing these songs shows that something is not functioning in the formation of socio-cultural values. But the solution to a problem of this magnitude will not come by attacking the effects; instead, the causes that generate it must be targeted.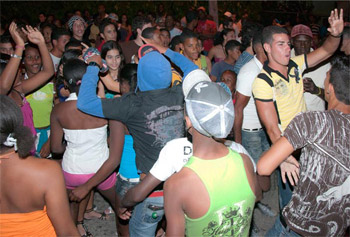 The central question should not be how institutions can prevent young people from listening to those songs, but how to conduct cultural work so that Cubans — regardless of their age — reject machista, sexist and vulgar songs.
Before blaming those young men and women, the generations that precede them should assume their responsibilities, those that each person holds either as a decision-maker, an intellectual, an artist, a teacher or even as a parent.
Culture and subcultures of youth are direct products of the training they receive, of the nation's educational system, of the family, the books they read (or don't read), the movies they watch and the power that decisions have on their lives.
Youthfulness is the daughter of its time and its environment. This is the period when people must be influenced – before imposing legal rules (as has already been stated by the Cuban Institute of Music). Banning will only serve to victimize those musical expressions and inflame the rebelliousness of adolescents.
A twenty-year-old guy told me that "putting legal obstacles on the use of music is as nonsensical now as when there was a ban on the Beatles in the 1960s." This reminded me that the generation of his parents had previously demonstrated that young people never comply with laws regulating the "uses of music."
Society should wonder how much of that vulgarity, smuttiness, sexism and vulgarity is present, more or less veiled, in the standards imposed by preceding generations with regard to subjects such as sex, gender, fashion, art, race and tolerance.
Young people need more social space than they do prohibitions. They need it in music, ballet, film, literature and politics. They need space to design a nation that they can identify with; a nation that is closest to their generation and their time.
A good bet would be to give a voice to creating ethical and aesthetic values that make up the nation's cultural heritage. Why try to impose education "in the image and likeness" of their parents and grandparents? That's something that didn't even work for God.
—–
(*) An authorized Havana Times translation of the original posted by BBC Mundo.