Mayte under the Flamboyant Tree
To the suicide republic!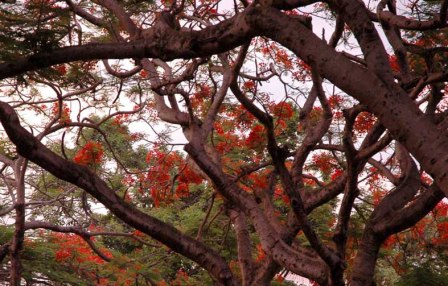 HAVANA TIMES — Mayte hung herself from a flamboyant tree, some years after she left her position as the leader of the Young Communist League at secondary school, where she fulfilled the role of a Torquemada of Stalinism, pointing out, informing on and destroying the lives of her classmates, marked by the urgency of rising up the ranks in that widespread crime.
Or maybe it was out of fear of being mistaken as someone who doesn't care about the system. Or maybe she was just filled with dread at the thought of her suppressed lesbianism coming out. Mayte only left her position as a regular informer when Benjamin was sent to jail for selling jeans, who she herself had bought a pair from to give to Amalia, the apple of her bloodshot eye, as a present.
However, when Benja was stabbed in prison and her love for another woman began to become public knowledge, Mayte was greatly affected and sunk soon after, putting a footstool at the foot of the flowering tree's strongest branch, to end up suspended in the air like a hawk or hummingbird does, fixed in one spot in the air. Forever.
Pedrin didn't stop buying newspapers to resell them to cries of "Rebelde! Rebelde!", a few years after he took part in several firing squads, something which he wasn't completely ashamed of, he later confessed to me, as no soldier knew whether they had fired the definitive shot or not.
Pedrin didn't hang himself, thanks to the fact that he wasn't sure if he had killed one of those people, but subject to the same reasoning, he also found himself losing his mind.
Nilda, the dorm snitch, Cuca and her husband, who were so perfect and gossipy, also went mad or dedicated themselves to picking up cigarette butts in Vedado. Or like Fefa, the head of her Party cell, ended up giving blow jobs at the Alamar roundabout, with nearly no teeth left and with bad breath that went in perfect harmony with her work.
Those who managed to save themselves from hell on earth on the island bought their salvation with the sadness of silent exclusion and they go to great lengths to keep their previous practices under wraps.
But, those who are beginning to come out of their hideouts, those who would do the impossible today to wipe away any trace of being connected to Cuba's absolute power, any clue that relates them to half a century of unconditional submission, of the degrading practices they subjected their victims to, they aren't coming from frightened poor homes, the school for building rural boarding schools, or even from vocational courses at the Lenin city/school.
These are our bread distributors. The ones who manage iron and fear. The ones who studied at military schools for the leadership's relatives, those who graduated from MININT (Ministry of Interior), those who used Mayte, Pedrin and Nilda as puppets of hate among all citizens.
This hate will last among us for a very long time like sediment, which will have solemn consequences, this disgraceful and outrageous half a century already having abused anything sensitive to being humiliated.