"My Best Friend", a Good Second Choice at the Havana Film Festival
By Yusimi Rodriguez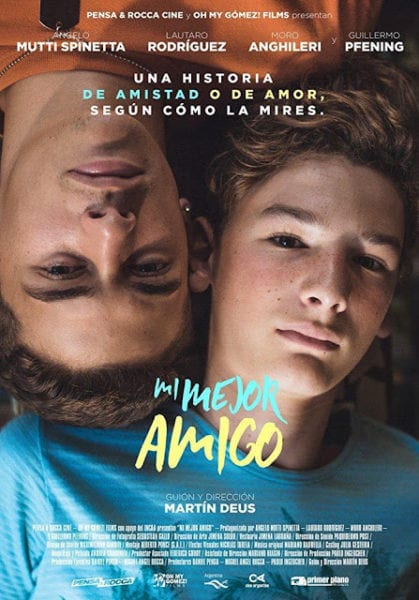 HAVANA TIMES – Mi mejor amigo, (My best friend) Argentinian filmmaker Martin Deus' director debut, was what many of us could go and see on Sunday, initially wanting to watch the Cuban film El regreso, actress Blanca Rosa Blanco's director debut.
Even though Blanco's movie from the other side of the Florida Strait will have its official debut with press conferences and events at movie theaters, Cubans insisted on watching it during the Havana Film Festival. The result: a great crowd of people already waiting outside the Riviera movie theater before 4 PM.
But there was still hope of getting in, entering in an orderly manner. However, people ran to take shelter in the movie theater's entrance when it started raining and the line, that had been so well organized up until then, disappeared. At 5:20 PM, it was still a mess and people couldn't get into the 5:30 PM screening. So, I left and went down the street to the La Rampa movie theater once I saw my chances of getting into the Riviera dwindle.
I'll just have to make do, I thought to myself when I sat down to watch "Mi mejor amigo". The synopsis in the Festival's newspaper said: "Lorenzo is a teenager who lives in Patagonia. His life gets turned upside down when Caito comes along, the son of some family friends. In spite of their differences, a unique friendship is born, which resembles a love interest at times."
Personally-speaking, I would have liked the synopsis to have finished after "unique friendship" and have had the opportunity to decide and find out for myself whether the relationship between these two boys who are so different did seem like a romantic relationship or not.
However, not even that small detail in the synopsis was enough to stop me from enjoying that story, which was so simply woven, but with an in-depth look at friendship and exploring your sexuality when you are a teenager. Mi mejor amigo keeps you on the edge of the seat and waiting for anything to happen, every glimpse of ambiguity.
Like Martin Deus himself said while presenting his director debut, this is a very personal movie, which demanded a lot from him as he had to look deep within and salvage memories from his own adolescence. Therefore, it came as no surprise that his name appeared in the final credits under screenplay.
The movie also has great performances from its actors, Angelo Mutti Spinetta's performance (who plays the lead Lorenzo) particularly stands out as he makes Lorenzo a memorable character. Caito is played by Lauto Rodriguez, who also gave a praiseworthy performance.
A graduate from the International Film School of San Antonio de los Baños, in Havana's outskirts, it was an honor for Martin Deus to present his movie at the Festival, where he formed part of the audience and admired the work of so many other directors. I believe that Mi mejor amigo is a good starting point for his career as a director; it's a beautiful movie and should be seriously considered in the Director Debut category in the 40th edition of the Havana Film Festival.