Not Afraid of Getting into Politics
Luis Miguel del Bahia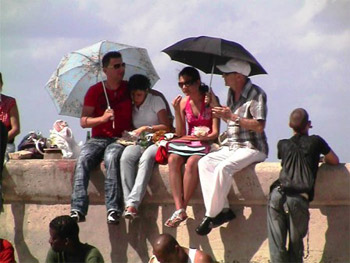 HAVANA TIMES — One of the most important things I learned from living in Europe was not to fear getting into politics.
When I was still living in Cuba, opinions were stated behind closed doors, in low voices, and looking to the sides, not wanting to get oneself into problems.
Today, upon return, most people with whom I talk are still fearful of being reprimanded for speaking openly about ideas that are contrary to the government.
This phobia isn't groundless or paranoid. One can find themselves unemployed or marginalized, in short: no longer "socially integrated."
There are other people who don't have anything to lose, but they haven't had the opportunity to compare and understand that they have a right to be heard.
They have not come to value freedom as a force that emancipates.
I don't have anything to lose either, nor do I have the fear of never having left the cave.
So I find myself surrounded by people who look at me with strange expressions — ones of fear, surprise, disgust — when I make sharp anti-government comments.
These are the same people who can't afford to buy decent food, those whose wages aren't enough for that. In short, these are people who suffer the same problems as me.
The system has been lucky (or effective) at keeping most Cubans from going abroad. In such a context, it's quite difficult to achieve change.
Maybe when more people can become familiar with other values — different from the ones on Cuban TV news — a collective yearning for freedom will be created and they will finally lose their fear.