Ortega's Lie about Nicaragua Returning to "Normal"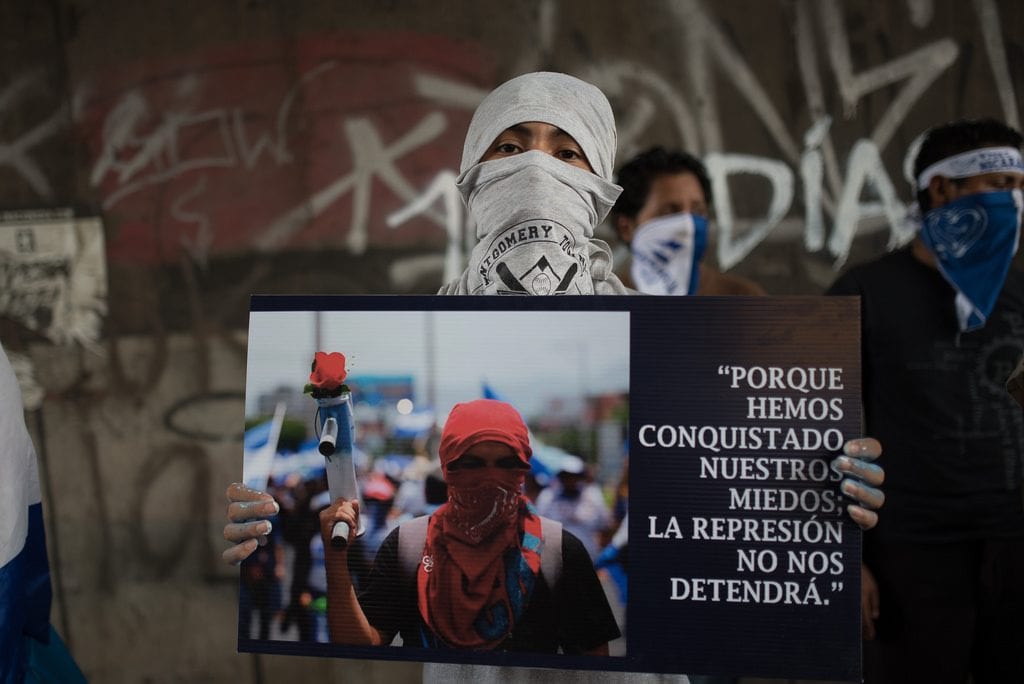 You mustn't forget that after the low tide, comes high tide, and that here, we do know how to overthrow a dictatorship.
By Gioconda Belli (Confidencial)
HAVANA TIMES – In interviews with foreign media, Daniel Ortega has declared that the country is returning to "normal". On FOX News, he said that a whole week had passed since anything violent had happened. That very night, three people were killed and another 17 were injured during an attack on the Sandino neighborhood in Jinotega, and in Managua, a young Brazilian woman, Rayneia Lima, who was about to finish her medical degree, died at 11:30 PM when her car was showered with bullets because she had dared to drive a few blocks away from Albanisa [the private Venezuelan/Nicaraguan company].
In his interview with Andres Oppenheimer on Monday (CNN), Ortega stated that things had been "normal" for about fifteen days. Of course, he didn't mention harassment of Channel 10's team of journalists: the beating Roberto Collado received on July 29th, Francisco Rivera's disappearance a week ago, or the bullying campaign against its director Mauricio Madrigal, which has been going on for over a month. Ortega even boasted about this channel's "freedom" of speech, which is broadcast nationwide and the population's favorite. It's a shame that Oppenheimer was unaware about any of this.
Ortega's interviews and contradictions compete with those of Trump. The only difference being that here, in our case, he is lying about deaths, about the blood spilled of over 300 Nicaraguan citizens and the arrest, persecution and unfair trial of hundreds. The icing on the cake was when Ortega told Oppenheimer that he had also been called a terrorist, probably the only truth he told in that interview. He didn't even realize how ironic it was of him to admit this.
But, let's get back to his idea of "normal". He is of course keeping quiet about what he has done. What we are experiencing today isn't "normal"; it's a state of merciless persecution, where his wife and him have imposed a state of widespread terror on the population with the murders, threats and arrests of hundreds of young people. This witch hunt has led many youth (leaders and participants of this civic rebellion) to hide or flee the country in order to avoid going to jail, to stay alive and protect their physical wellbeing.
I can remember the calm and silence that fell on Nicaragua after the guerrilla action of December 27, 1974 (which resulted in Ortega and numerous Sandinistas being released from prison), when Somoza had also carried out an indiscriminate witch hunt in order to put dozens of people in front of a military court to accuse them of collaborating with the FSLN.
Of course, people are protecting themselves from the repression that Ortega and Murillo have unleashed. However, people who protest protecting themselves doesn't mean that the country is returning to "normal". Only a mind like his would be cynical enough to declare himself victorious and think that everything will return to the way it was on April 17th. It's the complete opposite. He will never govern Nicaragua like he did before. He will never know how many of the people who continue to praise him really hold resentment towards him in their hearts.
This "normal" state of things that Ortega talks about includes the mass lay-off of medical staff at hospitals in Leon and Jinotepe, an atrocious action which lacks any trace of humanity. Punishing doctors for keeping their Hippocratic Oath to look after the lives of others and forcing hospital directors to comply with this order, is like corrosive acid undermining the very base of Christian values, solidarity and love that fill the mouth of the First Lady every day at noon.
In Ortega's "normal" state of things, threats are made every day to a never-ending list of people; ranging from guerrilla leader Monica Baltodano and her partner, Julio Lopez, to MRS party leaders, to NGOs that are receiving funds from USAID and other US bodies who have come providing programs for different civic activities in Nicaragua ever since we can remember.
In this last instance, they accuse with the same double standards that characterize them. Just back in 2008 alone, the Nicaraguan government received 59.2 million USD from the US government in aid, as well as loans from multilateral organizations where they are the greatest contributors. However, there isn't a single part of civic life where this government isn't looking for a way to accuse citizens with the crime of not agreeing with the authoritarian system that they have subjected the country to over time, by a government dominated by its absolutist intentions more and more every day.
What the presidential couple doesn't realize is that every attack they commit, every lie they tell, every time they disrespect the Law and the democratic and free way of things in Nicaragua, they are driving a stake into the hearts of the majority of Nicaraguans. It's significant that protests and uprisings continue even in the midst of so much repression and threats. This continuous resistance is a tribute to the courage and determination which, thanks to government excesses, is building up as a force on the rise in this population's punished spirit.
You mustn't forget that after the low tide, comes high tide, and that here, we do know how to overthrow a dictatorship. Unlike others who people try to compare us to, we Nicaraguans know that dreams are possible and this wisdom which we have inherited from our parents and passed down to our children, will ensure that this country returns to the true "normality" it needs.