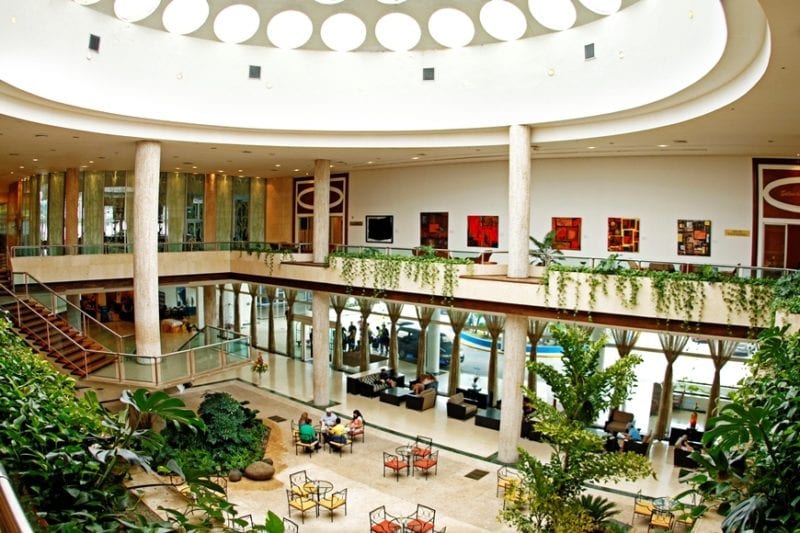 HAVANA TIMES — As a result of a complaint made by a Cuban couple who were tourists and their relatives, which has appeared in the media about the abuse national tourists suffer in Cuba when compared to foreigners, I remembered this passage.
I arrived in Havana in 1973 when I was a young boy. Three cars with military men inside came to meet us and they took us directly to the Habana Libre hotel. I lived there for three and a half years while I studied at the Orlando Pantoja primary school and at the "Felipe Poey" secondary school, which was connected to the University.
Reality inside the hotel, when compared to that out on the street, seemed like it was something from the Tarzan or Daktari in Africa movie. It was hard to live between two extremely different worlds, I remember that I used to refer to this situation as: "Those inside and those outside."
I had five restaurants at my disposal, plus room service, swimming pools, entertainment, lots of space, comfort, all kinds of delicacies and I could have as much as I wanted. My parents were very careful and used to go to the most homely and least ostentatious restaurant and would ask for the least sumptuous dishes, I guess it was because of their own feelings against that obvious double standard they were forced to live.
My father even asked the authorities who saw to us to send us to live in a working class neighborhood, which was before he left on his struggle against windmills.
When they began to renovate the hotel in late 1976, to meet the new policy that was implemented for the new tourism project bathed in "enemy gold", we were the last to leave; the corridors seemed like they were from buildings that had been bombed and we were sent straight, with no stop-overs, to the working class paradise that was Alamar.
Only our imaginations could have put together such a great contrast.
Before leaving, in early 1976, the first experimental store with capitalist products was opened and located in our hotel. Along with my friends Fernando and Pedrito, we had a team who used to compete against Gerardo and Alejandro to see who could snag the most expensive things they could from this store, although we tried to grab loads of post cards and other knick-knacks as they were in the less guarded area because they were cheaper.
Normally, Gerardo, who was older than us and looked more serious, would dare to take a watch or something of a similar value near the sales assistants and would beat us. One day, while I was filling my pants and T-shirt with postcards like a kangaroo does with its joey, I was caught.
When I left, they shouted "stop" but I ran off like someone being chased by a cheetah. A small group of people began to shout "stop him!" while I went faster still, dodging columns and curious onlookers and the group of people chasing me through the lobby grew.
I only stopped for a fraction of a second when Fedora, Pedrito's mom and my mother's best friend, who was like an aunt to me, entered the hotel bringing Paula back from school, her other child. With shock written all over her face, she gave me a piece with her look, but I kept running trying to get rid of this dagger, although I have had to pay the price and carry it burned onto my retinas for the rest of my life.
On one of the bends of my escape, my friend Fernando was brave enough to stand in my way and help take some of the postcards, something which sealed our relationship as brothers.
There, in front of the bathrooms which were behind the elevators, I went round the corner to the left, the barbers was on the right, the Turkish baths, the laundry room and then a dead-end alley, and I was heading towards the stores for guests, but in Cuban pesos; back then, there weren't any doors, it was just an airy corridor; they would later destroy the aesthetics of that magnificent building.
There was the arts and crafts shop with its different eyesores that nobody would buy, frogs playing the conga drum, Abakua demons, crabs with maracas, yarey hats and other similar things. Then, there was the perfume store, followed by the photo store and the hotel's offices.
I left nearly all of the postcards in an electricity box that was between some plants at the fountain in the middle of these stores, I kept four or five and stopped running; a group of outwitted runners got me and took me to the militia office, which was behind the cafe, under the administrator Zorrilla.
After being told off and scowled at, they called my mother. It was a surreal scandal, Che's nephew being chased in the lobby of his home with items he had snagged from the first anti-Communist store on the island. Many workers and emigre guests had brought their seats to sit front row and watch the show.
I was somewhere between terrified and dignified about the efforts those chasing me had invested in catching me; my father was a prisoner in Argentina at the time and by transfer, being arrested was more honorable and heroic than escaping for me. It goes without saying that if I hadn't been a foreigner or a relative of a Comandante, if I had been someone "outside" that bubble, I would have met a different fate.
It was that small store at the end of the Hilton corridor that had been seized by the Revolution, where you had to change into hard currency beforehand in order to buy anything. This was the beginning of the degenerative virus of moral authority that asked the Cuban people to make sacrifices to resist the Imperialist enemy.
Back then, the division of classes among Cubans was less obvious and you could somewhat cover up how a leader's relative lived and justify it to the few people on the island who knew. However, the discrimination and xenophobia that these awful stores stirred couldn't be hidden and was hard to explain.
Later, the easy shoppings came and so did the diplo-stores, diplo-hairdressers, diplo-bakeries, where all the products had a common denominator: they were infinitely better quality than those directed at Cuban consumption.
The most direct consequence of this was the absolute disdain those who said they had fought the Revolution for the Cuban people had for the population, for being Cuban, was made clear at every level. It sent the message that before any foreigner the "Cuban" people, would always have the role of server, of guilty, of suspicious, of punished, contaminated by the pandemic of shame and double standards.
Cubans have been much more dignified in any other country in the world than they have been in their own.
That's why it's necessary for us to understand that the vast majority of Cubans who live with this great and firmly-rooted disdain on a constant basis, feel a special gratitude towards the United States, which is mistakenly personified at times as a political alternative and not as basic human rights agreements, as they have experienced personal dignity, fair treatment and respect as a citizen for the first time there.