The United States Flag in Cuba
By Martin Guevara
HAVANA TIMES — This picture was taken in front of the monument to the victims of the Maine on Havana's Malecon ocean drive, on a sunny day, when the sea was frothy and Pilar wanted to put on her new shoes.
A few minutes later, a patrol car pulled up and the police asked me for my ID. According to them, I was being disrespectful towards a historical symbol. Luckily, my Cuban friends hadn't climbed up onto the monument and I didn't have much trouble convincing the officer that, as a foreigner, I wasn't aware of its significance. We continued on our promenade down the ocean drive, whistling at the swinging hips that passed us and knocking back a few bottles of homemade rum.
The monument was built in 1926. Originally, an imperial eagle and the busts of three presidents who had had a very close relationship to Cuba were perched on its two columns.
In January of 1961, Fidel Castro, a man who had been a fervent Jesuit, then a member of Cuba's Orthodox Party, then part of the group that supported Argentinian Peronism, a man who would later swear before the cameras he was not a communist and would never be one, as communism was a system that oppressed the peoples and, finally, faced with a seductive declaration of Soviet love, seasoned with the promise of tons of oil, food, weapons, protection and eternal friendship (among other things), had the eagle toppled and the busts of McKinley, Wood and Roosevelt removed.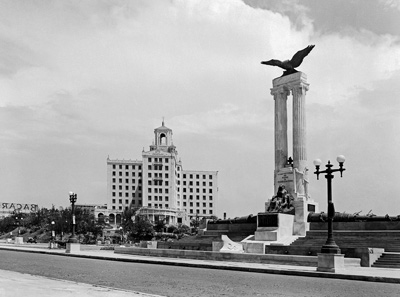 He also had a plaque installed at the monument which read: "To the victims of the Maine, who were sacrificed to the voracity of imperialism, in its attempt to take possession of Cuba."
Today, long after Moscow had its fling with Reagan, when the island still maintains something of a casual relationship with Venezuelan President Maduro, the successor of that once fuming Chavez who flooded his beloved island with oil, the US flag once again flutters in front of what was once Washington's embassy, then the US Interests Section and now, once again, its diplomatic headquarters, watched over by the imperial eagle, a few blocks away from the monument to the Maine.
It is anything but trivial that the same three marines who lowered the flag in 1961 returned today to raise it once again.
Looking at this old snapshot of mine I wonder if they'll place the eagle on the columns again and reinstall the busts of the US presidents. I also would like to know if they'll be fitting the monument with a new plaque, to replace the current and rather unfriendly inscription there.