The Word "NO" Has Become Increasingly Popular in Cuba
William Tell didn't understand his son when one day he got bored of having an apple on his head. -Carlos Varela, Cuban folk singer)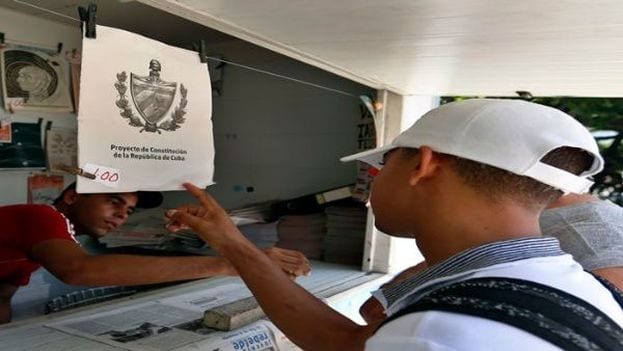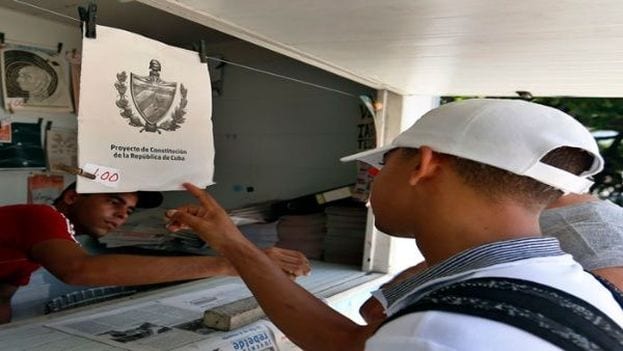 HAVANA TIMES – "NO" to the new Constitution that will be put to a popular referendum on February 24th, is growing every day. That is if we take a look at what many Cubans are saying on social media, especially Facebook, where you can clearly see two dominant trends: #Yo NO voto and #Yo Voto NO.
The first exhortation means staying at home, boycotting the referendum by abstaining from going to the polls. The second call requires you to go to the corresponding voting center, confirm your presence in their register, take a ballot paper and then, secretly consulting with your conscience, mark an X in the NO box.
It's been said that the Cuban Communist Party (PCC), the supreme power of the political system they want to enshrine for all eternity, runs a great risk of not winning the majority vote.
This claim seems a little exaggerated, expressing a longing of those repressed by the regime. However, Facebook working properly in Cuba could be at risk because this uncensored social network has quintessentially become the best place for a debate.
Why are there two movements to reject the new Constitution?
Advocates of Not Voting think: "The regime needs you to participate to legitimize its farce. Then, they will rig the result." First of all, this reveals that participation legitimizes the referendum. Secondly, that results are always manipulated, preventing the opposition's victory from being validated.
Supporters of going, registering and Voting NO, argue that "without expecting a majority vote against the Party/State's proposal, you just need a high percentage of NO votes to send a clear message to the ruling political system. They can't make millions of NO votes vanish."
But abstention is a common practice in the modern world, it can be interpreted in many ways, but supporting a political opinion massively, expressing it with a concrete action, has an inescapable influence on public opinion.
Divided between the apathy that is eating away at us politically-speaking, and resolute citizenship, those who in fact abhor the system created by Fidel Castro will have all of the remaining votes in their favor which the Communist leaders are after.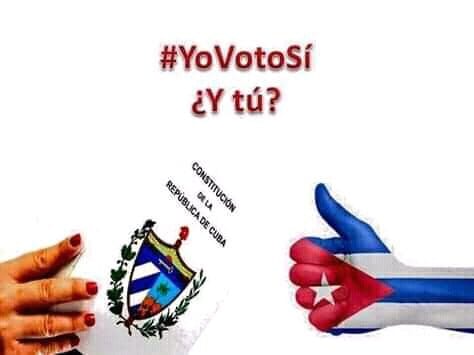 The dilemma lies in the government's own campaign. Calling on people to vote or downplaying it, not insisting too much because they run the risk of people voting NO? According to Raul Castro's strategy in his decade as president, previous elections visibly reduced the pressure that coerced citizens to go and vote.
At the end of the day, Voting No or Not going to Vote, means that a considerable number of Cubans are clearly expressing their disagreement with the Constitutional Reforms process. They did so at popular assemblies promoted by the PCC to discuss the draft Constitution, other disagreements were clearly out of place in these meeting and are now appearing as posts that are taking over social media:
– No compulsory minimum wage has been established yet which would ensure that every worker is able to support themselves and their families.
– Cubans are banned from investing money in their own country, from accumulating wealth and assets, which is something only foreigners can do.
– The Cuban Communist Party reasserts its condition of sovereign power, taking the place of popular sovereignty. The document has captured a contradiction between Articles 3 (referring to the Party) and 92 (to the National Assembly of People's Power, unicameral Parliament elected by a secret and direct vote, however, subject to the PCC).
– Cubans are forced to defend what has been called the "Socialist Homeland", without taking into account the fact that freedom of thought leads us to a different conclusion: the Homeland belongs to everyone, socialists and non-socialists. Punishing treason to this Homeland (with a compulsory surname) with the death penalty, without respecting personal consciences, is extreme.
– For many people, the icing on this unacceptable cake is that they want to eternalize the socialist system, an experiment that has lasted for 60 years and is far from the success that its creators promised.
Neither the Cuban Communist Party, or its socialism, have the backing they need to call upon Cuban citizens to vote in its controversial experience for all eternity.
Lastly, we can't vote on certain points of the Constitution that have caused great controversy among the population.
Even though we can't identify authors of the opinions I've shared here, you can find the most wide-ranging opinions in hundreds of articles that have been reproduced by the many alternative digital media outlets about Cuba that exist today.
Points of view are multiplying indefinitely on social media.
One Facebook user has written what could be a defining phrase:
"The main thing every Cuban should be worrying about with regard to the challenge we face on February 24th, should be to go to the polls and mark an X properly in the NO box, peacefully and in a civilized fashion."
We'll sing along with Carlos Varela:
"…And he got afraid when the young boy said that it was his father's turn to have the apple on his head."
—–
Vicente Morin Aguado: [email protected]