What Happened to 'La Joven Cuba'?
By Yasmín S. Portales Machado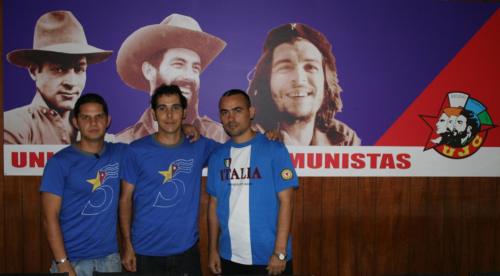 HAVANA TIMES — You need to have a gift for gibberish; it's not easy to talk and say nothing – really. OK, I might consider it a detestable talent, but it's a talent nonetheless.
There's always the consolation that such an inexorable flow of words can shroud you, allowing you to float away in a beautiful cloud of mental detachment, on which — by its very nature it's ultimately devoid of sense — you will be able to return for various reasons.
A good speech full of BS is useful for almost anything, except perhaps for weddings, funerals, births and triumphant revolutions (though these latter are becoming more and more rare indeed).
A news item is more difficult to understand when this BS-ing technique is employed, but it's less painful than a headline that's short and clearly written.
For example, take a look at the post this morning on a well-known blog in Cuba:
 "The Website La Joven Cuba Takes a Break" ("La Joven Cuba se toma un descanso")
The explanation under the title merely reads: "For many reasons it's very difficult to maintain a blog as complex as La Joven Cuba. We're going to take a break. We hope to continue in the future."
Where can one hide themselves with so few lines? This is terrible! What are we going to do now? Speculate, of course.
The first thought that came to my mind was that summer is here (in the northern hemisphere) and computer access for the young editor/webmasters (who are the professors) was dependent on the University of Matanzas, which is now on summer break.
However, as one reader commented, during the past two summers, the flow of information on the site never stopped. In 2010 there were 58 posts in July and August, and 40 posts during that same summer period in 2011.  So much for that theory of mine concerning the true reason behind the digital warriors packing it in.
My second thought was that they were simply tired of so much controversy and word-slinging. It stands to reason that the administration of that blog takes away time for other educational projects, research and personal matters that can't always be "put off until later."
What happened was that La Joven Cuba grew. Thanks to its superlative assessments and its large community of commentators, it expanded in a manner that few imagined possible. It did it from the left, outside Havana and without censoring its forums. Its organizers did this with courage and consistency.
As for me, someone who takes a look at the site from time to time, I might have bought into that possibility, but another comment refuted that variant.
The reader wrote: "Not even 24 hours ago, Tatu [one of the trio of editors] was talking about looking for a cartoonist at the university who could work for the blog; he also mentioned the possibility of people being able to hear posts that were read by a person. In short, they were talking about website renovations and changes, but nothing remotely close to shutting the blog down."
This leaves, of course, a third option: conspiracy. La Joven Cuba is uncomfortable for some people because it tries to deal with — head on and without delaying — changes in the mentality of Cuban society that our president is encouraging. Therefore, these people stopped it in its tracks in the face of their inability to deter its organizers.
To add a little seasoning to this theory, one could suggest that the tipping point was the "Conference of Cuban Bloggers" held during the first two weeks of May, an event that led to a bitter national debate in the blogosphere.
Whether or not one liked the selection committee, the invitations or the conference statement (in Spanish), the fact is that La Joven Cuba became an example of how complicated it is to invite dialogue from the left without surrendering to the strategies of those who call themselves leftists but don't act so freely in their own blogs, as did those professors from Matanzas.
But after the waters calmed down (which had to do with the semifinals of the Cuban Baseball Playoff Series held at Matanzas stadium, thanks to manager Victor Mesa) the trio from Matanzas showed no signs at all of any "traumatic shock."
They went ahead with what they did best: writing brave and diverse reflections on situations here in Cuba while remaining ready to continue the dialogue – up until today.
They write that they "hope to continue in the future," and I hope they can for the sake of our political culture, because that doubts that cause a sudden death cannot be hidden even by best BSers.
——
See this interview published last November by HT with La Joven Cuba.