Where Will Cubans Look to Now?
Cuba's double currency is a "contradiction" which is widely accepted, but whose solution is still far off
By Alejandro Armengol  (Cubaencuentro)
HAVANA TIMES — A schizophrenic situation has been enduring in Cuba for decades: the State sells things to you, but it doesn't pay you enough to be able to buy them. With this attitude, which is parasitic to the extreme, the government continues to hold absolute control – political and economic – while feeding a nationalist rhetoric. More than a contradiction, it would make more sense to call it incoherence imposed forcefully.
There's no hope that the discrepancy between prices and incomes will lessen at all, in fact it's the complete opposite. By only seeing the issue as the result of a double currency, is to interpret a consequence of the problem to be its essence.
Cuba's double currency is a "contradiction" which is widely accepted, but whose solution is still far off, to the point that today, it's been completely set aside on the government's agenda and isn't even mentioned in government media.
Journalist Fernando Ravsberg quotes the economist Juan Triana, who claims that the unification of national currency could mean that over 60% of state companies will have to shut down, as they are currently benefitting from an artificial exchange rate.
When these companies need to import, the State recognizes the parity between the regular Cuban peso and the US dollar, while the real exchange rate is in actual fact 24 to 1.
If national currency and exchange rates were to be standardized, these companies would be unable to buy necessary supplies to continue producing, he explains.
According to Ravsberg in a recent article, Triana claims that the unification of exchange rates and the bankruptcy of state companies would end up destroying approximately 2 million jobs.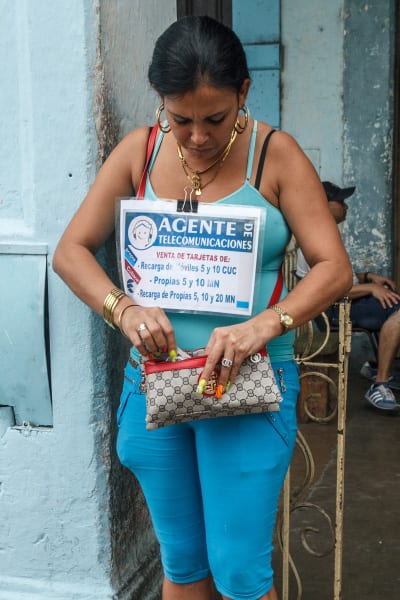 In order to prevent mass unemployment, the Cuban economy would have to diversify to a point that the country's political hierarchy doesn't allow. This was the path that has been interrupted since the very beginning, which Fidel Castro seemed to oppose – and everything seems to point to his ghost opposing this too – whose fears multiplied after Obama's visit.
By placing hurdles and excessive obstacles in the private sector, which have prevented its widespread development; the agricultural sector's failed development objectives to replace imports; plus plummeting prices on the global market for raw materials and the increasing crisis in Venezuela, the Cuban government is holding onto stagnation with more force than ever.
Cuba's double currency problem sets an example of Cuba's ruling elite's determination, which seems to be for life, of prolonging the matter and moving it into some kind of limbo, which tries to hide their lack of ability or willingness to find a solution.
It is a strategy which has led to economic failure, which – at the same time and for decades now – has served as a political tactic. Likewise, it has achieved its goal up until now: to believe that this dead-end road is temporary.
Thereby repeating the paradox in the Cuban model, where the lack of productive efficiency has been the political system's trump card on many occasions.
In the face of the increasing gap between wages and prices, the government is only looking abroad for the much needed funds to keep it afloat – remittances, tourism, medical services and professional services abroad and very specific exports, such as the pharmaceutical industry and some minerals – while it fails to understand the survival of its citizens.
However, due to a series of factors which weren't necessarily meant to coincide, all of the above have come together in the kind of a perfect storm of distress, today, as Cubans see themselves experiencing a frightening drought on the island; less and less gasoline from Venezuela, and just how important this is for cars; and growing uncertainty as to whether the restrictions from the George W. Bush era will return and with the doors to the United States becoming more and more closed. Where will they look to now?