Why the Inclusion in Cuba's Constitution of Same-Sex Marriage Failed
By Alejandro Langape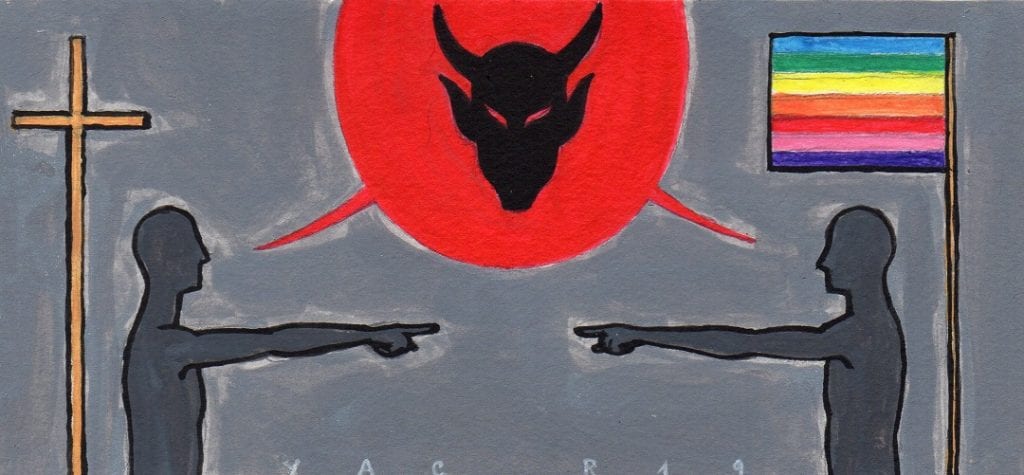 HAVANA TIMES – No, I'm not going to talk about the reasons why the Mambises didn't win the first of our independence struggles. I just want to point out some arguments for why heated Article 68 in the new Constitutional Draft, which opened a door for same-sex marriage, soon became luke-warm Article 82 which defines marriage as a social and legal institution and a way to organize families.
It's worth remembering that Article 68 sparked the most debate in neighborhood meetings to discuss the draft Constitution before the final draft was approved by the National Assembly to be put to referendum on February 24. And, it's also worth pointing out the fact that it was written in mumbo jumbo.
On the one hand, the definition of marriage as the voluntary union agreed between two people seemed completely refreshing, which seemingly reflected a shift in mindsets that would put Cuban society on the same level as Spain or Argentina. However, it was hard for a good number of Cubans to accept this and they immediately voiced their disagreement with passing a Constitution they found too transgressive in this aspect.
Yet, the rest of the article was the complete opposite, considering marriage to be the first implicit step towards making a home and a family. A mix of modernity and conventionalism which blew up because churches rejected it outright (especially the Evangelical churches), whose doors were plastered with posters that preached "Family like God created it", showing the idyllic image of a mother and father walking with their children (a classic of advertisements in the '50s and '60s) and the prevalence of exclusive heteronormative behaviors.
Not even President Diaz-Canel's support, expressed in an interview on TeleSur, or CENESEX, led by Mariela Castro Espin, could counterattack this rejection, and faced with the threat of a large NO vote in the constitutional referendum, they took a step back.
But, something else became clear (at least in my eyes), as well as the National Assembly's ambivalent position who had given the article a green light months beforehand: the fact that Cuban society wasn't prepared enough to accept this proposal.
In reflections that circulated on social media in September last year, the Archbishop of Camaguey defended the option of legal unions (which recognize some rights of marriage) between same-sex couples instead of marriage, and gave examples of other countries where this already happens.
Over 15 years ago, in Extramuros magazine, National Literature Prize winner Reynaldo Gonzalez told the story about a long-term couple of two gay Spanish men who had adopted a boy from El Salvador, who didn't show any signs of being homosexual. Gonzalez then spoke about legal unions, which was recognized in Spain, as an acceptable alternative to marriage.
This story shattered two great myths: that non-heterosexuals are promiscuous by nature and incapable of having a steady long-term relationship and, more importantly, that children of gay couples end up becoming homosexuals themselves (a myth which has no grounds whatsoever given the fact that families all over the world, except for very few exceptions, bring up their children as heterosexuals).
So, it's worth asking ourselves why this example from Gonzalez wasn't taken into consideration here in Cuba and a step-by-step approach adopted, that is to say, that legal unions first be recognized in the initial draft copy of the Constitution and, in a later reform, go one step further and propose same-sex marriage, bearing in mind the need to always prepare society, i.e. show same-sex couples in everyday life and I'm not talking about soap operas, series, movies, but real life people, professionals, people respected in their communities.
In Spain, public approval of same-sex marriage had a lot to do with celebrities showing how they live with their partner of the same sex, such as TV presenter Jesus Vazquez did, or the late politician from the Canary Islands, Pedro Gonzalez Cerolo, or the current Minister of Home Affairs Grande Marlaska.
Seeing them appear in newspapers, magazines, TV shows, making their relationships visible contributed to normalizing the view of non-heterosexual relationships in this country, which is something that we haven't even tried in Cuba, even though most of us know that there are well-renowned figures in the world of Culture, Science or Sports who have built their careers alongside people of the same sex, but they never appear with their partners in the public sphere.
I know that a case can be made for their right to privacy, that nobody is obliged to disclose their sexual preferences if they don't want to, but, if our people don't see these couples in their everyday lives, who have been able to fulfill their dreams and build solid and long-lasting relationships, then it is hard for mindsets to change.
And, in spite of everything, a shift in mentalities seems to appear in articles 81 and 82, which at least overcome the narrow-mindedness of former articles 67 and 68, where the subliminal message continued to be interpreted as state support for traditional family units and no recognition for other family units.
So, now the heterogeneity of Cuban society is being taken into account, especially the fact that nearly half of the people who live with their partners have done so with a consensual union with no legal ties.
If the State only protected those in marriages beforehand, protection now extends to steady and monogamous unions with legal authorization, who share a common life project, a definition that can be applied to both heterosexual and homosexual unions and this seems to be the temporary solution that is being offered to a frustrated LGBTI community, who could vote negatively in the referendum on February 24th.
In summary, all kinds of pressures and a lack of suitable strategies to back this proposal have led to people forgetting the contradiction that now exists between Article 42 which rejects discrimination based on sexual orientation and the fact that there is a social and legal institution that these same people can't have access to.
The alternative now is that this issue will be later picked up and introduced into future revisions of the Family Code, and many people still have the feeling that the possibility of two brides getting married in white or two grooms in blue has left this unknown country that we call Bolina, like so many other things have.