Rosa Martínez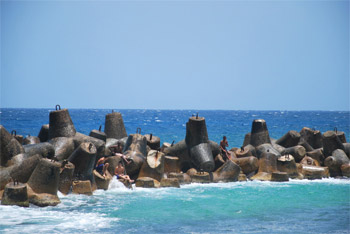 HAVANA TIMES — We don't know for certain how many young Cubans have emigrated to all latitudes of the globe, but we do know that there are many who have chosen to leave their country in search of economic betterment, greater freedom, or simply fleeing a regimen that they consider suffocating.
Cubans have found many different ways to achieve what has become the cherished dream: to emigrate.
Those most fortunate are the children of the wealthy who manage to leave easily to study, work or live in whatever country that appeals to them.
There are also those who succeed in reuniting with family members who established themselves in other countries many years ago and whose favorable economic situation now allows them to take everyone with them, leaving in Cuba only memories of the sea the sun, the air, the people.
Many left swimming. In Guantanamo you heard every day of Cubans who arrived at the naval base and were sent back, others who were blown up in the largest mine field in the world, the fortunate ones who were taken to the country of supposed freedoms, and more than a few were never heard from again.
There are those who manage to save money while working in Cuba and find a way to buy an airline ticket through friends on the outside or in the department of emigration. Eventually these Cubans are able to arrive peacefully at a destination far from the soil of their homeland, often to nations whose official language they didn't even know.
Cubans have done a little of everything to leave Cuba.  Here, though, I want to make special mention of the Cuban women who married a foreigner or an emigrated Cuban just to escape the economic misery imposed since the special period.
For many who work as prostitutes, what they do is seen as only one more job, like teaching, healing the sick or laying a brick; but for others it signifies more than just something that they will one day chat about.
When family members in Cuba receive the dollars and euros that are sent by their daughters, sisters, mothers and nieces who went off to a strange country to help support their families, often they don't perceive the suffering behind each bill.
When the packages arrive full of every kind of item, they know nothing of the story behind each blouse, pair of pants or shoes.
Those who remain behind limit ourselves to enjoying that which arrives from other continents and we forget that our sister married a man who smells bad, or that she has to put up with constant humiliation or with blows; and that every day when her husband comes home she prays that he be drunk, under the influence of drugs, or tired out so that he won't want to touch her.
Of course, here there are similar stories, but the distance from the families makes the misfortunes there so much sadder.
That's how many Cuban women live on the outside: surrounded by a world of misery that's not fundamentally economic, only in order to find a little financial betterment for themselves and their own.