Text and Photos by Irina Echarry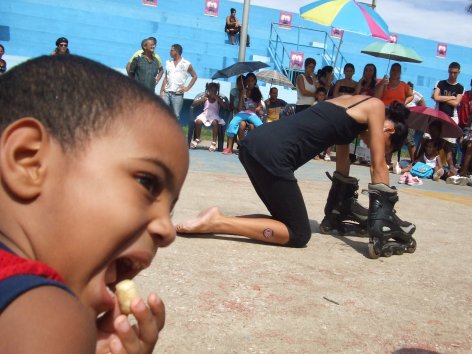 HAVANA TIMES, Sept. 6 – Musgañoso has been sad since he read a book titled "The Uselessness of Almost Everything." The work made him think about life, about reality.  What can be done to get his smile back?  A little girl had the answer: "Make him happy."  And how can we make him happy?  The girl again made a suggestion:  "Play with him and give him love."
So, Musgañoso began to smile when he received kisses and hugs from the boys and girls who were around him.   He got up, but not to play…
This was a scene from the "First Propositions for a Living Planet Festival" taking place in Havana's Ciudad Deportiva sports city complex.  The morning was dedicated to kids, with people of all ages of people running from one side to the other so as not to miss the circus acts, the dove exhibit, the Wu Shu demonstration or the giant kaleidoscope.
It was a busy day in which the artists (designers, painters, actors, dancers and musicians) melded with the public. Caps, umbrellas and pieces of cardboard were used to try and shield people from the main guest: the sun, which began heating things up early.
Like veritable specialists, child explorers from the Landing of the Granma School, in the municipality of Arroyo Naranjo, answered any of the public's questions they had about agronomy and planting.  They talked about the elimination of plagues and how to make use and worm humus to improve soil.
Over there was heard Brazilian capoeira, while over here people from the Huellas Project painted a mural.  This afternoon and evening there will be music.  Various artists will unite their voices "for an inclusive art, respectful of human diversity and nature…" said one of the leaders, though this last aim wasn't met since the grass was covered with beer and pop cans, plastic bags and paper.  Certainly all of this will be collected when the event concludes, but until then it doesn't help to create an environmental culture.
On television they announced the Festival was "for a living planet and against violence." Many thought that they would undertake ecological actions; however, what we found was garbage strewn everywhere.
Sure it was a good idea to have the activity, especially the idea of interacting with the artists, but nature demands our attention and we shouldn't forget it. As Yeni played and Pon and Armandito counted the times they could bounce a ball off their bodies without it hitting the floor, it would have been a fitting moment to interest boys and girls in caring for the environment.
Click on the tumbnails below to view all the photos in this gallery