A Unique Havana Wedding Performance
Nonardo Perea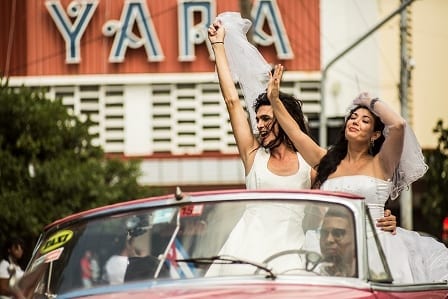 HAVANA TIMES — We met in Prague, and ever since our first public intervention on the Czech Republic's oldest bridge, we haven't stopped working together here in Havana.
We're united by the same desire to open up people's eyes, those people who in the 21st century still don't understand that human beings, all of us, are individual beings and therefore, different, both in the way we think and our sexual preferences, the way we dress.
For Yaima Pardo it is of upmost importance to show the world, and the people of Cuba, that we are capable of understanding one another, without taboos or complexes; learning to live with other people's differences. That's why she currently finds herself totally absorbed in a project called: Cause and chance, which takes up a lot of her time, defending the LGTBIQ movement which unfortunately doesn't have a great deal of visibility in Cuba. And she does this besides being a heterosexual woman, mother and wife,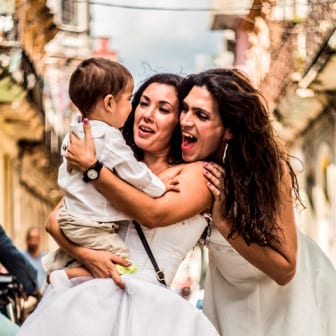 I don't know if Mariela Castro is involved in this kind of activism, where she has put her entire body and soul into it. This is what I would call being in touch with what is happening today, observing people on the street, being there to make a moment unforgettable and historic, and in some way, check to see how people in her environment react, when they are part of an interactive performance, where they are being directly observed by a wide range of people who have different social manners of conduct.
For those of you who aren't very sure what a performance art involves, it's an artistic event which can be completely improvised and cause quite a surprise. The term "performance" comes from the English expression Performance art which means live art, and is connected to the Happenings movement as well as others. Performance art is different to painting or sculpture, because it's no longer the object, but the subject which becomes the key aspect of the art piece.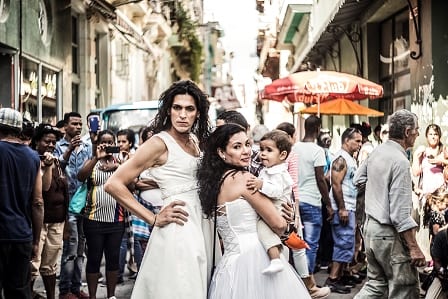 Sniggling is an activist, prankish form of public performance art, which normally develops when spectators aren't initially aware of what is going on, of the fact that a performance is taking place. Joseph Beuys (1921-1986) was an important example. In his art works, he included action, movement and people foreign to the piece.
Dressing up as brides and taking to Havana's streets pretending that we were getting married, a woman with a transexual man was a unique experience. I believe it's the first time something like this has happened in Cuba.
Yaima Pardo puts herself at risk with her performance: "a revolutionary family" receiving praise and criticism, for a way of living that many people who are still stuck in their ignorance refuse to understand.
Therefore, the most important thing is that she is an unstoppable and hardworking woman, who fights for what she believes is in society's best interest. She is marginalized and in some ways not understood by many.
Click on the thumbnails below to view all the photos in this gallery. On your PC or laptop, you can use the directional arrows on the keyboard to move within the gallery. On cell phones use the keys on the screen.