A Walk Down Havana's Neptuno St.
Photo Feature by Caridad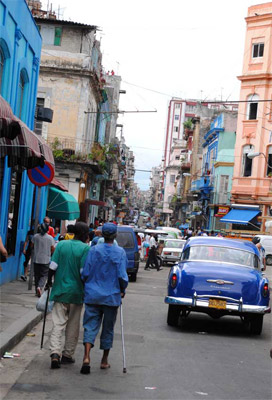 HAVANA TIMES, Nov. 10 — Neptuno is one of the most famous and busiest streets in Havana.  It begins at the equally busy Paseo del Prado, and whoever wants to know something about the center of this city cannot miss walking this extensive street that ends somewhere around the University of Havana.
Movement is what characterizes it, though—like most streets in Havana—it has begun turning into a strange phantasm of what it used to be.
You'll find here businesses of all kinds: bakeries, cafes and bars. Then too there are street vendors with fruits, cleaning supplies, condiments, shoes, milk and clothes. Almost any product that exists can be found in the hands of the merchants, sometimes not so visible to the unaccustomed eye.
Neptuno is shops, houses for rent, private taxis stands, spiritual doctors, police on the lookout, distracted tourists, and people eager to find food or something to spend their money on.
You'll see questions on people's faces as well as dazzling architecture, some of the buildings in an advanced state of decay.
All this makes Neptuno a street worth photographing a hundred times.

Click on the thumbnails below to view all the photos in this gallery. On your PC or laptop, you can use the directional arrows on the keyboard to move within the gallery. On cell phones use the keys on the screen.