African-American Social and Cultural Anthropology
Photo feature by Elio Delgado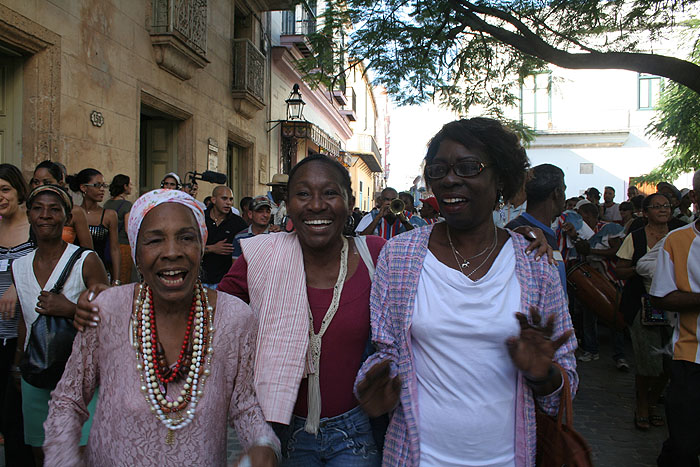 HAVANA TIMES, January 17 — Coinciding with the 25th anniversary of the Casa de Africa museum and gallery, this event (see accompanying photos) was held from January 5-9. It had been anxiously awaited not only by its presenters, but also by the whole community in which the facility is located: the historic district of Old Havana.
This area, marked by its multiple and varied activities in parks and plazas of the surroundings, was where community members and passersby became involved with and mixed in the dancing, rituals and parades that took place.
Scientific reports were presented at the center within various commissions, with the ones attracting the most people being "Gender, Culture and Identity," "The Role of Museums in the Work of Communities," "Culture, Identity and Otherness"; and "Visual Anthropology," which is always the most anticipated.
In this latter commission, several works stood out; these included craftwork produced from guiras (a percussion instrument) and ekueles (sacred chains used for fortune telling), which was made by Leticia Averhoff Sanchez and Roman Gonzalez Castañeda (both from Cuba) titled "Fuerza spiritual"; a presentation by Manuel Semanat of four different-sized wooden Orishas; and the photographic exhibition titled "Fiesta de los Orichas," produced by Grisell Concepcion Timor and the author of this report. That exhibition had 10 photos, whose connecting thread was movement in dance.

Click on the tumbnails below to view all the photos in this gallery