Afro-Cuban Culture at Havana's Hamel Alley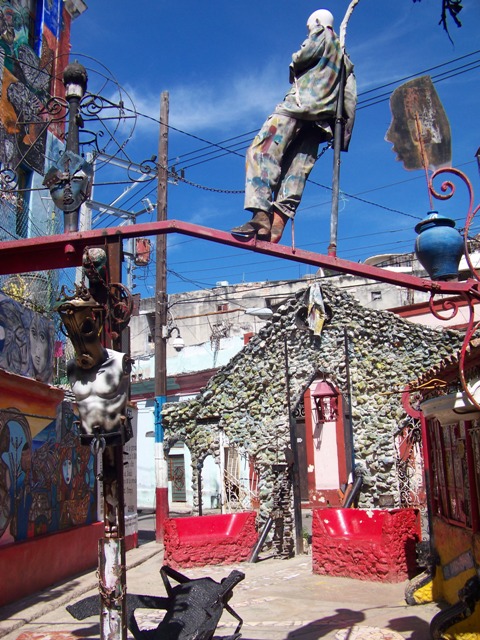 Photo feature by Ernesto Gonzalez Diaz and Milot Septiem
HAVANA TIMES — Havana's Hamel alley, as its name indicates, is a small backstreet located in the neighborhood of Cayo Hueso, Centro Habana, very close to Vedado. An important socio-cultural project aimed at divulging Afro-Cuban culture through music, theater, the visual and other arts is based there.
Beginnings
"The project emerged in 1990, on April 21, 1990, to be exact, when Salvador decided to paint his first mural in a public space in front of his house. In 1989, he had already painted a mural in Old Havana's Casa de Africa," Elias Asef, assistant to visual artist Salvador Gonzalez and the project's manager and leader, tells us. He adds that the precursors of the alley take us back the mid-19th century, when a German-American immigrant surnamed Hamel settled in the place and established a construction materials plant there.
"I define the project as a series of murals and sculptures in a public space devoted to Afro-Cuban culture. It is an intervention that transgresses and transforms the environment. There is no religious proselytism here, we only try to divulge some of the symbols of cultures and religions of African origin, such as Santeria, Palo de Monte and the Abakua society, through theatrical stagings."
Social Function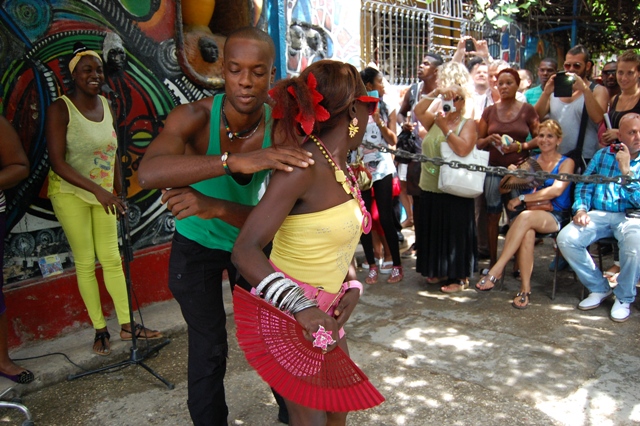 This cultural project has allowed young people from the neighborhood to socialize, fraternize and have a space where they can contribute to the spiritual and personal development of residents and visitors constructively. No few of them began as musicians (today professionals), playing rumba rhythms in the alley, and several have participated in the regular performances staged Sunday mornings (such as Yoruba Andabo, Calve y Guaguanco, Los Muñequitos de Matanzas and Frank Fernandez, among other illustrious representatives of Cuban music). The alley has also been the venue of the Wemilere Festival and, recently, it was awarded the Cubadisco Festival Award for its cultural promotion activities.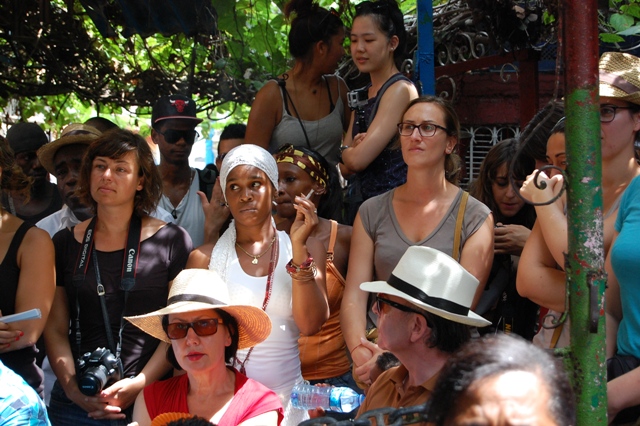 "This is where we have rumba performances on Sundays, attended to by hundreds of people," Elias tells us. "We also have Salvador Gonzalez's study and gallery, we sell rumba albums by the same musicians who perform here. Incidentally, these musicians don't get a penny for performing and dancing here. We already have a restaurant and cafeteria, harmoniously integrated into the alley."
In the course of 24 years, the project has had to face and struggle against much incomprehension and skirt obstacles of every kind. Despite this, it has managed to find a place in the popular imaginary and to become an example of what a community can achieve with good will and the hope of a better future.
Click on the thumbnails below to view all the photos in this gallery. On your PC or laptop, you can use the directional arrows on the keyboard to move within the gallery. On cell phones use the keys on the screen.