Alamar, Havana Streets Turned into a Great Dump
By Jimmy Roque Martínez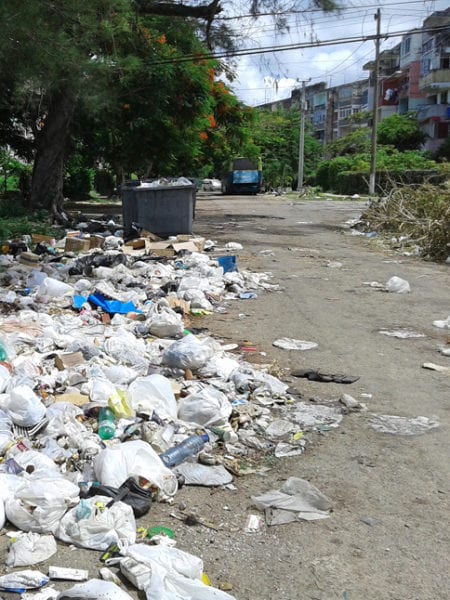 HAVANA TIMES — A tour through the streets of Alamar by the environmental project El Guardabosques, revealed dozens of garbage pick up points that were overflowing with garbage throughout the sprawling housing projects, located on the east side of Havana.
Although it's nothing new to see such sights throughout the Cuban capital, it's surprising to see how the situation in Alamar is so widespread, where over 90,000 people live.
The situation is so serious that even Cuban TV's Canal Habana, dedicated an entire news report on the subject, showing garbage bins overfloowing with food scraps, pavements and flower beds filled with garbage, the breeding grounds for potential diseases from mosquitos and rodents.
Sande, a resident of Alamar, told us that it's been over three weeks since Community Services (the state company responsible for picking up garbage) has sent teams and workers to this suburb, while piles of garbage continue to grow.
The day after the news report on Canal Habana, "by coincidence" a brigade of workers came to this abandoned, once dubbed model city, to tidy up some of the dirtiest areas. However, the majority of places remained in the same condition as before.
Another resident interviewed by provincial TV told us that there have been many times that, after weeks of not coming, city workers come and take only what's been left in the garbage bins, leaving behind piles and piles of garbage on pavements, streets and flower beds.
Are we currently facing a situation of "social indiscipline" (a term Cuban bureaucracy prefers to use in order to blame the population and to mask its inefficacy) or State incompetence on behalf of a government that doesn't know how to manage garbage, while it shows not the least amount of interest in promoting recycling?
Click on the thumbnails below to view all the photos in this gallery. On your PC or laptop, you can use the directional arrows on the keyboard to move within the gallery. On cell phones use the keys on the screen.