Beauty & the Beast, Cuba Version
By Irina Echarry, Photos: Caridad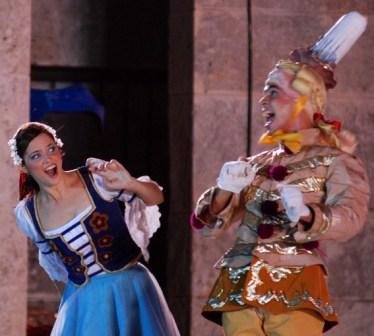 HAVANA TIMES, August 6 – A Cuban version of the musical Beauty and the Beast has been playing for the last month at the Havana Amphitheater.  With a cast of lyrical performers under the direction of Alfonso Menendez, the work moves the audience for both its wardrobe and staging.
You don't have to be an expert on music to enjoy it; that's the objective pursued by musical director Miguel Patterson.  Without modernisms or seldom used or extravagant lines, the work is based on a complex score, with absolute respect for the original, with no omissions or cuts.  The set design, Hollywood style,  reaches boys and girls that know the animated Disney version.
People of all ages attend the amphitheater, which for a long time honors the history of musical theater in Cuba.  The venue has witnessed premieres of: The Phantom of the Opera, The Happy Widow and the Hunchback of Notre Dame.  Neither rain nor heat matters, once the lights go on, the public is hypnotized.  The majority of the audience is usually a public accustomed to attending other types of presentations, more of a pop nature, and the artists take that into account.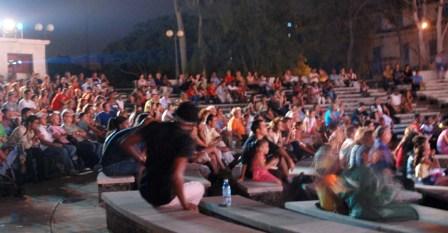 The large dose of humanism is maintained in the Cuban version of Beauty and the Beast: empathy for the pain of others and the possibility of appreciating the gentleness of the spirit above physical attributes.
It has a beautiful message that is direly needed in this century; one marked by brand names, stereotypes of feminine and masculine beauty, and a lack of sensibility that has proliferated in Cuba for several years and which converts our young people in frivolous followers of the external.
Despite being a production that lacks some of the required artistic polish, it's clearly worth seeing history unfold in Old Havana itself, in an open-air atmosphere near the murmuring of the sea.
The Beauty and the Beast continues on stage at 9:00 p.m. every Saturday and Sunday through August 30th.  For more information or to confirm the shows call the Amphitheater at 863-9464
Click on the thumbnails to see all the photos in this gallery