Cuba: Baseball or Soccer?
Photo Feature by Ernesto Gonzalez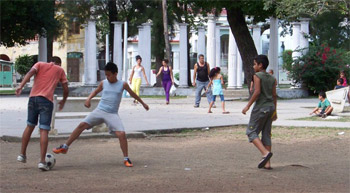 HAVANA TIMES — While officially baseball is still the national sport in Cuba, for a while now young Cubans passion for soccer is growing fast.
A common sight today in parks and squares of Havana, Pinar del Rio, Matanzas and other cities are children playing soccer.
Virtually everyone in the younger generations knows Messi, Cristiano, Iker, Xavi, Iniesta, Carles Pujol, and many others in the capital Real Madrid and Barca have many followers as the Industrial.
I think it's possible to love both baseball and soccer, Industriales and Real Madrid, because love is not exclusive.
Nonetheless, I also believe that television has had much to do with a love for soccer that Cubans feel today. If you put the best soccer in the world on Cuban TV, why not also show the best of universal baseball?

Click on the thumbnails below to view all the photos in this gallery. On your PC or laptop, you can use the directional arrows on the keyboard to move within the gallery. On cell phones use the keys on the screen.