Cuba Book Fair Visits in Pictures
Photo Feature: Elio Delgado Valdes
HAVANA TIMES – Today, I went again to San Carlos de la Cabaña fortress, permanent seat of the International Book Fair of Havana, the perfect setting to take pictures of the annual event, which although it has other venues, has a special air.
The fair goes beyond books and has become a family outing. Besides the offers from local and foreign publishers, numerous food stands and rides and other entertainment for children abounds.
The sale of books by Cuban publishers is varied and some with affordable prices. However, as is always the case in these book fairs, the salaried Cuban worker without outside income is unable to purchase the attractive titles promoted by foreign publishers who come, even at discounted prices.
Another attraction this year is the pay-for Wi-Fi service, which enables the free download of e-books, very welcome by young people.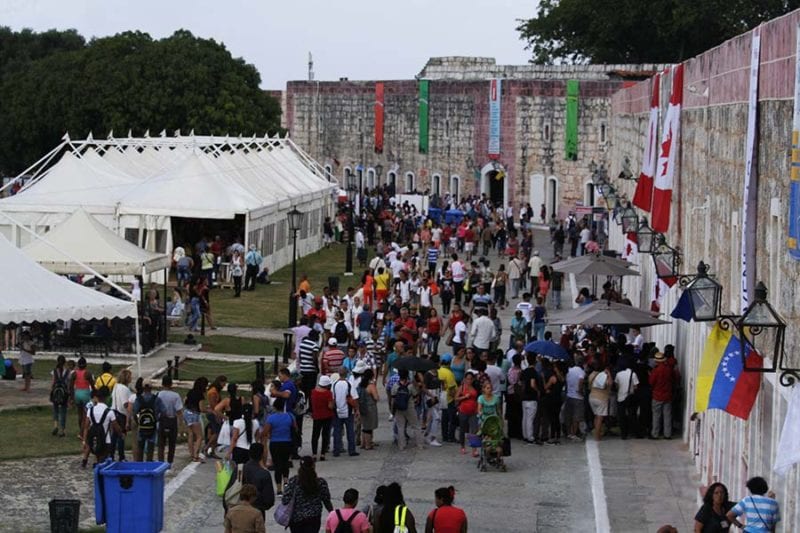 The most popular book at the fair among children is 3D Dinosaurs, marketed at a price of 10.00 CUC (11.50 USD). The experience was heartbreaking, a father tried to explain delicately to his little one that he couldn't buy it; the reason being the price is almost his whole salary of one month.
Another little boy was embracing this same book, pleased by the gift, when asking his mother the price, she explained the sacrifice she made to buy it, because a little friend at school had showed it to him and he was impressed with the book.
The book fair closes its Havana phase on Sunday Feb. 19th. Then, for the next month, it will reopen in the different Cuban provinces. The event and all of its collateral cultural activities is the most widely attended on the yearly calendar.
Click on the thumbnails below to view all the photos in this gallery. On your PC or laptop, you can use the directional arrows on the keyboard to move within the gallery. On cell phones use the keys on the screen.