Cuba Hosted its Second Peace & Love Festival
Photo feature by Irina Echarry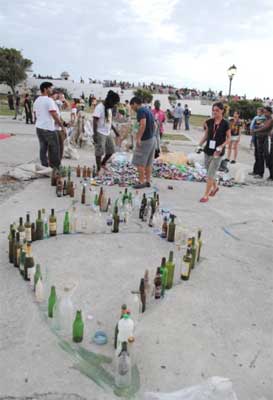 HAVANA TIMES, March 24 — For the second time in Cuba, the Peace and Love Festival  was held in the capital on March 9-10. If someone asked the audience why that title for the event, hardly anyone would have been able to answer; even fewer knew that it was in coordination with Sweden (the host country for a number of years).
Very few people attending would have said that it had an environmental theme and that it included an installation that several artists created on the esplanade of the grounds made from recyclable materials.
For most people, the Peace and Love Festival was a giant concert, two days of listening to Cuban and Swedish musicians who performed in a variety of musical styles – including rock, pop, techno, hip hop, and electronic music.
On the Swedish side were performers such as Veronica Maggio, Timbuktu and Prop Dylan, while from Cuba were heard artists like Interactivo, Sintesis, Anonimo Consejo, Carlos Varela and X Alfonso.
It all took place at the historic La Cabana fortress, an ideal space for hosting various art forms. This year there was significant representation by visual artists belonging to the Fabrica de Arte (Art Factory) project, directed — like the festival — by X Alfonso.
The works — which were in large format in mixed media, digital print and oil on canvas — reflected various social and existential concerns.
Other groups such as Saltamontes (a green cultural project) interacted with the children through oral traditions, games and written narratives, as well as capoeira martial arts – which always attracts attention.
There were those who took this opportunity to buy crafts or get tattoos. In a healthy and peaceful atmosphere, kites and balloons were in the hands of children and adults alike. Peace and Love had come to Cuba for the second time.

Click on the thumbnails below to view all the photos in this gallery. On your PC or laptop, you can use the directional arrows on the keyboard to move within the gallery. On cell phones use the keys on the screen.