Cuban Artist Tomas Sanchez Shows Works in Cuba after 27 Years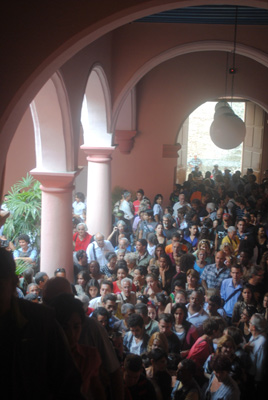 Irina Echarry
HAVANA TIMES — The works of Cuban painter Tomas Sanchez immediately come to mind when one speaks of landscapes that evoke a sense of spiritual peace. Lakes, clouds, palm trees, rocks, islands, all rendered with the utmost detail. His oil paintings manage to capture even those of us who aren't much moved by landscape art. There's really no mystery in his art, merely the inner peace that issues from the artist, the kindness that emanates from his words, his sincerity.
Sanchez had not had an exhibition in Cuba since 1987. Though some of his paintings were occasionally exhibited in a number of biennales in Havana, there had been no solo exhibitions by the artist since that date. The artist had been blacklisted (his yoga and meditation practices weren't well seen at the time).
Sanchez participated in that earth-shaking renewal of Cuban visual arts that was given the name of Volumen 1 ("Volume 1") and won a number of awards in the country. Later, he decided to live and work in places other than Cuba.
Now, Havana's Wifredo Lam Center saw a full house for the opening of artist's Notas al paso ("Notes Made in Passing"). After 27 years, Sanchez' name has reappeared at a Cuban gallery and no one wants to miss out. This time around, however, the artist surprises us with a series, not of paintings, but of photographs.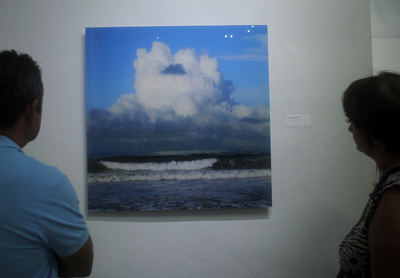 According to Sanchez, he developed an interest in photography many years ago, but found the entire process – going into a darkroom, developing the photos, etc. – rather bothersome. "When digital photography came about, I started taking pictures almost non-stop, just to register the things I saw in nature. This is my fifth photography exhibition."
This showing is also significant because the Havana Arts Biennale is celebrating its 30th year of existence, and Sanchez received an award for his work at the first biennale.
The exhibition consists of twenty-five photos taken in Cuba and Costa Rica. Like always, nature is a central part of his work, bringing the pieces together, ennobling and naming them.
In the photos, we see lights, shadows and gradations as varied as nature itself. The exhibition is open to the public until May 15.
Click on the thumbnails below to view all the photos in this gallery. On your PC or laptop, you can use the directional arrows on the keyboard to move within the gallery. On cell phones use the keys on the screen.