Cuba's Fall Dog Show Stresses Beauty
Photo Feature by Elio Delgado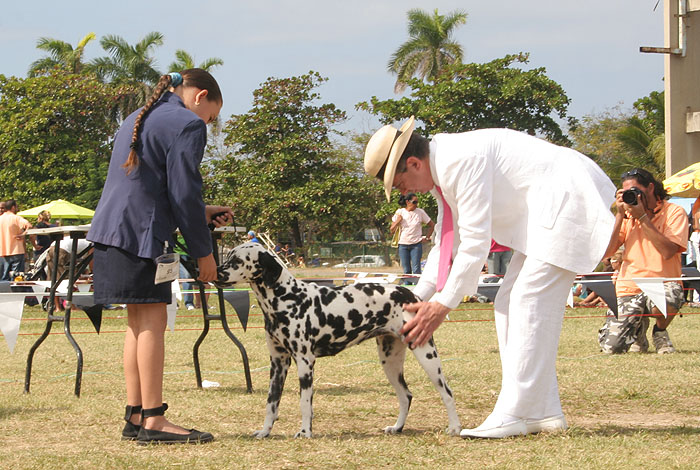 HAVANA TIMES, Nov. 19 — This year's Autumn Edition of the Havana International Dog Expo just took place with judges from Mexico, Colombia, Panama and Cuba.
This show was not as well attended as in previous years, which was disappointing to canine lovers who anxiously await this event all year. However, the excellent organization and concern for quality were apparent to those present.
The showing of Dalmatians was a standard bearer, as much for the enthusiasm of their owners as in the number of dogs and the results obtained. In this competition young Dianet Velazquez with her dog Sacha, competing in the categories of Inter-continental Champion, Mexican Champion, Latin American Champion, Cuban Champion, Sicilian Champion and Best Opposite Sex. Dianet was the winner in the handlers competition for children (ages 6-10).
We were able to witness the retirement from the concourse of the 12-year veteran and Champion and Grand Champion of Cuba, Domino del Real, of the breed known in Cuba as the "Chinese dog."
Of the foreign participants, we can speak of the 18-month-old German Shepherd from Venezuela named Camila Von Hanssenhaus, which is owned by Carlos Alberto Marturell. We can also highlight her status as a SG1 (Venezuela), JCH (Venezuela), Cuban Champion and an International Champion.
Among the Shar-Pei breed stood out the three-month-old puppy Reinita with her young owner Mario Alejandro Sanchez Gregore. She won the "Best in the Show" recognition, as well as second place on the third day and third place on the fourth day.

Click on the tumbnails below to view all the photos in this gallery