Januwa Moja Fashions at Havana Biennial
Photo Feature by Elio Delgado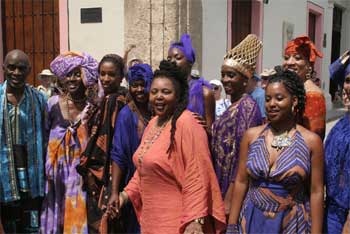 HAVANA TIMES  – The famous US designer of African fashions, Januwa Moja, presented on May 10, at the Havana Africa House, a collection of African fashion designs  that pay homage to their ancestors.
On the catwalk, US and Cuban models presented the beautiful samplings to the diplomatic corps and other guests. There were 15 outfits shown by women and men.
This fashion show was part of the collateral activities surrounding the XI Biennial of Havana, which runs through June 11 in the Cuban capital.

Click on the thumbnails below to view all the photos in this gallery. On your PC or laptop, you can use the directional arrows on the keyboard to move within the gallery. On cell phones use the keys on the screen.