by Irina Echarry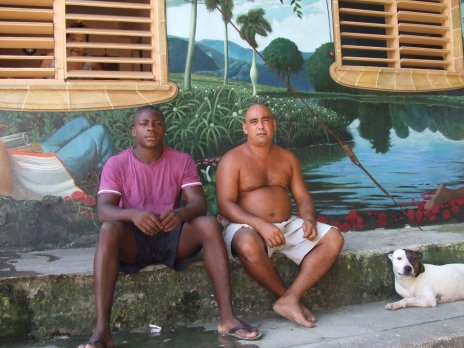 HAVANA TIMES, Sept. 24 — For the artists of "Proyecto Huellas" (Project Imprints), the crossroads village of Cantarrana has a special allure. On the block where they decided to establish themselves, they were welcomed with the same naturalness that locals receive the sun in the morning or the pestilent scent of the river that runs nearby.
All of them are visual artists (painters, ceramists and designers) who one day decided to interrupt the customs of this neighborhood to leave their artistic imprint; however, over time they've gradually knitted together a socio-cultural exchange – especially with the children, who they hope to enrich with a collective project in support of the environment.
"We want to create a park with benches where people sit down to hear conferences or play dominos, where people can socialize. We've already made contact with the Nuñez Jimenez Foundation, and they've agreed to come to give talks. We're also going to try to clean up the river; in this way one can do educational work from an ecological point of view," said Erasmo Aguilar, one of the members of the team that gives workshops on drawing and painting.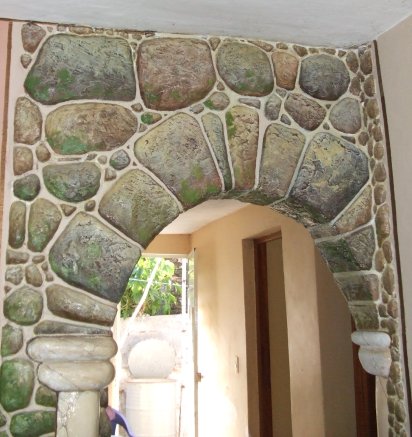 He told me with pride that, "A long time ago, when the river came up to here (pointing out a mark on the ground), it was filled with frogs that gave wonderful concerts. That's how the place got its name: Cantarrana (singing frogs)."
Along the whole block you can see the facades of the houses painted with the works by different artists: Castillo (a naïve-style painter), Juan Francisco y Pi, and others. Because the houses are so close to the river, they were first primed with a waterproof base, which contributes to making the artists' works more resistant to the relatively high humidity, and then they were painted with acrylics.
Area residents are pleased with the looks of their homes and some have also let the artists decorate the interiors of their dwellings: adding or adapting ironwork, paintings, furniture, columns and installations, almost all made with cement or stones from the adjacent river and which simulate wood or plant fibers.
Although the members have different concepts of fine art and commercial art, as well as different ways of conceiving life in general, they're united by the desire to leave their imprint in this picturesque locale.
The teachers don't see their workshops as something strictly "educational," with the formality of schools, but as spaces where children will feel good, without the pressures of school, and a place where kids can relax while learning. This is why a certain woman allows the artists to use her porch and the creators return there every Saturday. There they carry out activities —out of their own resources— with the sole purpose of enriching the artistic and emotional memory of Cantarrana.
Click on the tumbnails below to view all the photos in this gallery