Leonardo Da Vinci in Havana
Photo Feature por Elio Delgado Valdes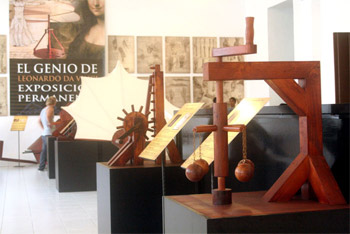 HAVANA TIMES — The Genius of Leonardo Da Vinci is the title of an exhibition permanently installed in the White Hall of the Museum of Sacred Art of the Minor Basilica of the Convent of St. Francis of Assisi in Old Havana.
The exhibition is the result of cultural exchange between Italy and Cuba and is a collection donated to the country by the Italian Anthropos Foundation and organized in Cuba with the collaboration of the Havana Historian's Office.
It presents a variety of objects built from plans designed by Leonardo, who showed in his time, a concern about the movement, which still astonishes the world.
Visitors to the exhibition can interact directly with machines designed by the Renaissance genius and built under the supervision of specialists, artisans of Milan, in his hometown. The reproductions were basically made of wood, leather and fabric, basically.

Click on the thumbnails below to view all the photos in this gallery. On your PC or laptop, you can use the directional arrows on the keyboard to move within the gallery. On cell phones use the keys on the screen.