Mexican Mythology Figures on Display in Havana
Photo feature by Elio Delgado Valdes
Text by Elvira Pardo Cruz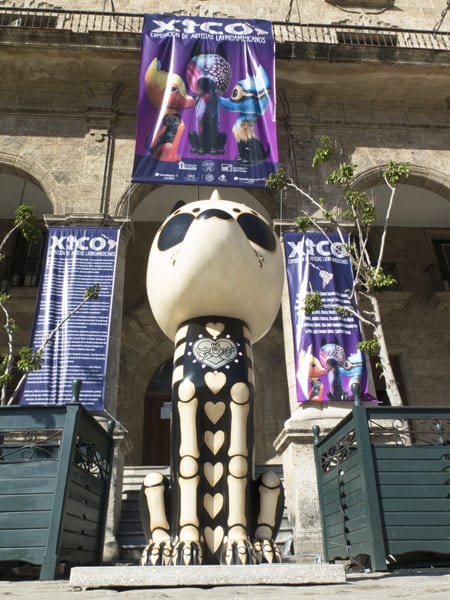 HAVANA TIMES — The character that brings to life Travesias de Xico en Latinoamerica ("Xico's Travels Through Latin America"), an exhibition that opened at Old Havana's San Francisco de Asis Square after touring other countries in the region, can be traced back to Mexican mythology.
Xico is an ancestral figure in the form of an ancestral dog, the voice of the people's wisdom, a guide in the spiritual world of pre-Hispanic cultures. Through the use of canine symbols, Mexican artist Cristina Pineda rescues Latin American legends and traditions.
Pineda-Covalin, a Mexican design brand founded in 1995, organized the exhibition, which set 16 sculptural figures on display across the legendary square in Havana.
Measuring 1.80 meters in height and made out of reinforced vinyl, these figurative sculptures are the work of artists from Cuba, Panama, Colombia, Guatemala and Mexico.
Renowned Cuban engraver Eduardo Roca Salazar (known as "Choco") covered the sculpture's body with collagraphs from his collection, while engraver and painter Angel Ramirez drew from universal and Afro-Cuban art and painter Francisco Gordillo employed animal symbols found in Yoruba traditions.
Another piece was designed by Victor Mora, the promoter of Cuba's Muraleando Community Project, who recreated his children's sweet and exuberant eyes.
This large-format exhibition, donated to the Office of the Historian of Havana by the designer, enlivens Havana's public space. Xico draws curious crowds, while the exhibition seeks to delve in the Latin American identity. The pieces are on display until December 12; then will be exhibited in other heritage sites across the country.
Click on the thumbnails below to view all the photos in this gallery. On your PC or laptop, you can use the directional arrows on the keyboard to move within the gallery. On cell phones use the keys on the screen.