My Rolling Stones Concert in Havana
Photo feature by Yolvik Chacon
HAVANA TIMES — I decided to get a plane ticket to Havana whichever way I could the same I day the Rolling Stones concert was confirmed on the news. Incredibly, I had the ticket two days later.
I was worried my visit would coincide with Obama's arrival on the island. Luckily, I arrived a day later.
I spent my time counting the minutes before the concert. I called my friends in Havana to agree on a place and time to meet that day. Luckily, some of them also wanted to go to the concert.
We left from Alamar on the eastern outskirts of the city. The buses were crammed with people, probably concert-goers. We were finally able to board the third bus that came along. As we crossed the Havana Bay tunnel, a very pleasant energy began to be felt.
We stopped to pick up another friend of mine near Revolution Square. From her place, we headed down to the bus terminal to buy some beers (a person had told us we would only be able to get them there, as all alcoholic beverages were forbidden at the concert and no State establishment was selling them that night). It was around 38 – 40 degrees Celsius under the scorching sun, so the beers were true life-savers in our trip down to Ciudad Deportiva.
At around 7 at night, the positive vibes and excitement of the people could be felt in the crowd in the place, which was thankfully quite large.
It wasn't easy to get close to the stage, but I tried to take some good pictures. Curiously, a woman with an American accent insulted me in English and even threatened to kick my ass if I didn't leave the place she and a group of foreigners were at. I pretended I couldn't understand her. She may even have thought I was deaf, because I didn't react in any way. I didn't want anyone to ruin that special day for me.
I focused on going around the area and locating the backstage, to see if I managed to sneak a peek at the artists. I didn't have an invitation, let alone a credential. While talking with a security woman, I thought to ask her if there was any chance I could step into the hall that only people with invitations could access. I told her I had come from Venezuela. She mentioned many acquaintances and relatives who were or had been working in Venezuela. Apparently, I made a good impression on her. She told me she didn't have any problems if I ducked and sneaked past the fence, but that, if any security people saw me, she had nothing to do with it. Before she had finished speaking, I was already on the other side of the fence.
On the side of the invitees, I asked some young men how they had managed to get invitations. They told me they had gotten them at work. A foreigner told me they'd been given one at the Hotel Nacional.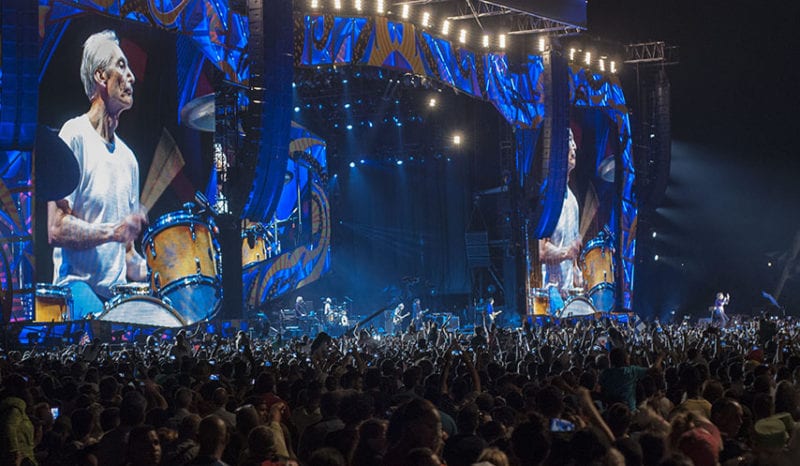 There, I came across a number of Cuban personalities, but didn't see anyone from the Rolling Stones. At around 8:45 pm, the stage lights came on and, from a distance, I was able to see Mick Jagger and Keith Richards make their spectacular entrance, followed by Ron Wood and Charlie Watts. The new members of the band also came on stage while the crowd screamed and applauded, ecstatic. It was an incredible feeling.
?In a few minutes' time, I began to hear the first notes played by Keith Richard's guitar, and the concert took off with Jumping Jack Flash.
The sound enveloped you and was high-quality. In Spanish, Mick Jagger said: "We know that, years ago, it was very hard to listen to our music, here in Cuba, but here we are, playing for you. The times are definitely changing."
They played my favorite of their songs, Gimme Shelter, next to a talented New York singer, Sasha Allen. The lyrics speak of violence, social upheaval and the Vietnam War. The refrain, "it's just a shot away," filled me with emotions I will never forget.
They also sang a number of other favorites of mine: Paint it Black, Brown Sugar, Honky Tonk Women, Miss You and, of course, the well-known legend, Sympathy for the Devil.
When I see the documentary to be made, I will remember I was there to share in that unique experience.
Click on the thumbnails below to view all the photos in this gallery. On your PC or laptop, you can use the directional arrows on the keyboard to move within the gallery. On cell phones use the keys on the screen.