Special to HT by Allison Herbert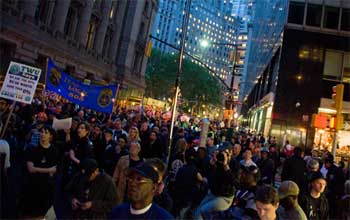 HAVANA TIMES, May 3 – It's officially spring in New York City. The sun is out, trees are in bloom, and the streets are filled with the echoes of angry chants and rhythmic drumming. That's right, Occupy is back in full force and this time, they've got sound permits.
Despite a slow start on a rainy Tuesday morning in Bryant Park, Occupy's May Day event reached record breaking proportions numbering in the thousands by the time it reached Union Square and continued to grow as throngs of marchers started down Broadway tightly pressed between rows of NYPD.
Notwithstanding high tensions and some thirty arrests, the protests remained relatively peaceful.
The Crowd was big, music was loud, speeches expressed outrage, yet the overall atmosphere has shifted since last fall. People stand behind tables selling 99% T-shirts and buttons, stalls with pamphlets selling communism, libertarianism, anarchism, a man dresses as Jesus dragging the cross, someone carries a sign reading "Obama = Nazi".
An overwhelming measure of spectacle and banality has infected what was once a group of thirty kids sleeping in a park.
The various labor unions, social services, and immigration organizations present offered some degree of legitimacy and respectability to the setting. Along with Occupy's organizers their leaders called for equal rights, living wages, government funding, and an overall end to the proclaimed plutocracy.
It's been months since Occupy Wall Street received its final eviction notice from Zuccotti Park, the movement lost its spot in the limelight and has been struggling to regain a foothold in the media ever since.
May Day's event was the first large scale attempt at resuscitating its impact on the world stage with marches and rallies in countries all over the world. Whether it's given the movement enough momentum for a summer of protest remains to be seen.

Click on the thumbnails below to view all the photos in this gallery. On your PC or laptop, you can use the directional arrows on the keyboard to move within the gallery. On cell phones use the keys on the screen.