On Havana's Jesus del Monte Avenue
Photo feature by Irina Echarry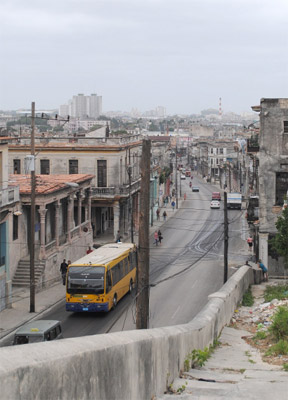 HAVANA TIMES — Tucked away in one of the most populated municipalities of the capital, we found a street with history. Known first as the "Camino Real del Sur" (Southern Route) it was the only roadway that led from the city into the countryside.
Later, this bridge of communication between early Havana and the towns of Bejucal and Santiago de las Vegas was named "Calzada de Jesus del Monte" (Jesus del Monte Avunue).
Today it is the famous Diez de Octubre (10th of October) Avenue, the same byway that inspired the 20th century poet Eliseo Diego.
Walking down this street, we come across braced-up houses that have stood the test of time, as well as the busy Toyo Corner, in the oldest parish on the outskirts of Havana, with its Jesus del Monte Chapel (today known as Buen Pastor Chapel), in addition to other buildings.
What few know is that this church was built on land on which the San Francisco de Paula sugar refinery once occupied before being demolished.
People come and go along this "rather large road, which is Jesus del Monte, where too much light forms other walls with the dust."* This was the magic that amazed Eliseo, but which is now disappearing.
Today the light lets you see a street that has become old, with its rundown buildings and grime; as well as the cars leaving behind smoke that darkens the environment. Though it remains iconic, few poets will ever reminisce about it.
—–
* A verse by Eliseo Diego taken from "El primer discurso."

Click on the thumbnails below to view all the photos in this gallery. On your PC or laptop, you can use the directional arrows on the keyboard to move within the gallery. On cell phones use the keys on the screen.