Planet X and Its Urban Music
Photo Feature by Dariela Aquique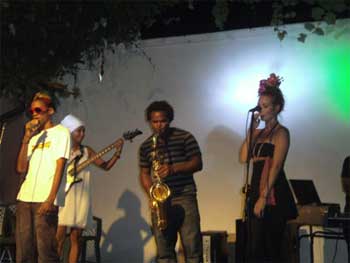 HAVANA TIMES — New paths in music are refusing to be confined under this, that or any other label. Because of this, the term "fusion" is fashionable, as are groups where members are not permanent.
Instead they have interactive projects in which the musicians involved depend only on the style of the disk that's being produced or the characteristics of the concert to be performed.
This photo feature is concerning a new type of project like this.
On Sunday, May 20, at the "Jutia Conga" (the cozy patio of the UNEAC headquarters in Santiago de Cuba), there was the concert promoting the release of the disk X Planet Istence.
It was an excellent concert that included trova, rap, hip hop, electronic music, country, Brazilian folklore and even a little Cuban timba.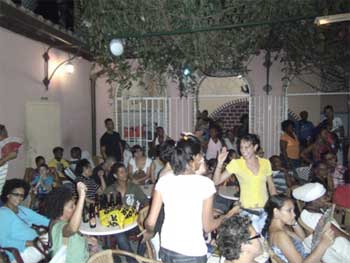 The interactive and electro-acoustic concert had two leaders: London musician Holden Holly and the Santiago rapper Alayo Star. The guests were the troubadour, singer and arranger Ruben Lester, who was on guitar; Sandra Aguero on bass; and DJ Jigue – with those latter three also being local talents.
The mixture of urban styles, good will and lots of positive energy made ??it possible for these young people to come up with their disk, one in which there are no differences between the British tones of Holly or the sympathetic Santiago phrasings by Alayo.
This album and this concert are a sign that by putting one's soul into one´s work, any undertaking is possible. This is an independent production — without the sponsorship of institutions and facing shortages — but one in which, as Alayo says, "You put in your feelings and I put in my 'flow.'"

Click on the thumbnails below to view all the photos in this gallery. On your PC or laptop, you can use the directional arrows on the keyboard to move within the gallery. On cell phones use the keys on the screen.