Saint Lazarus Day in Cuba: Beyond Faith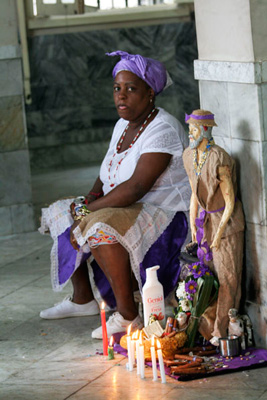 Photo Feature by Elio Delgado Valdes
Text by Elvira Pardo Cruz
HAVANA TIMES — Every 17th of December, many Cubans celebrate Saint Lazarus Day. On the streets, children, young people and the elderly wear the symbolic garments made of jute and purple fabrics, in allusion to the saint said to protect one's health.
Revered throughout Cuba, this saint has been adopted by different religious traditions. For the Yoruba creed, he is Babalu Aye, the old man of the crutches and dogs, for the Catholics he is the Bishop and martyr of Marseilles, for practitioners of Ganga he is Yebe, and for Bantu religions he is the old Luleyo or Coballende.
This syncretism is a socio-historical and cultural phenomenon. These religions are inseparable from Cuba's national culture and are intertwined into an amalgam that Fernando Ortiz, the father of Cuba anthropology, aptly described as "transculturation." Religions are a component of Cuba's national identity.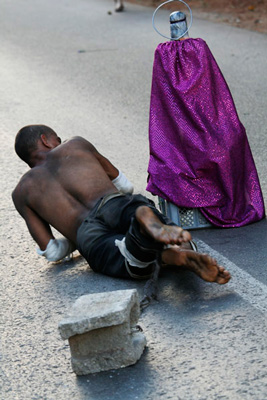 On this day, Cuba's places of worship light a candle in honor of the protective deity, said to cure illnesses and protect life.
Thousands of devout people fulfill their promises to the deity in a massive pilgrimage to the Rincon sanctuary, where an effigy of the miraculous figure is kept.
On the 17th, the two-kilometer stretch between the entrance of the Rincon and the gates of the sanctuary is filled with people who have made the trip to the shrine to fulfill their promises.
Every year, more and more believers join the pilgrimage. The sanctuary, where stands selling religious and decorative items have permanently set up camp, is always crowded with people asking for change from visitors.
Many places around Havana celebrate Saint Lazarus Day. The Casa de Africa run by the Havana Historian's Office, though not a place of worship, serves as an ethnography museum devoted to the study and promotion of African culture and its diaspora and keeps a collection of religious artifacts, including a statue of Saint Lazarus which is put on display that day for the devout. The museum also holds a cultural gala where traditional dances and music are staged. This year, the female dance ensemble Rumba Morena performed at the museum.
Beyond faith, Cubans seek spiritual aid to shoulder their longings and hopes, hopes that today seem within reach, following the news about the new course that relations between Cuba and the United States have taken.
Click on the thumbnails below to view all the photos in this gallery. On your PC or laptop, you can use the directional arrows on the keyboard to move within the gallery. On cell phones use the keys on the screen.