San Lazaro Street, Havana, Cuba
Photo feature by Ernesto Gonzalez Diaz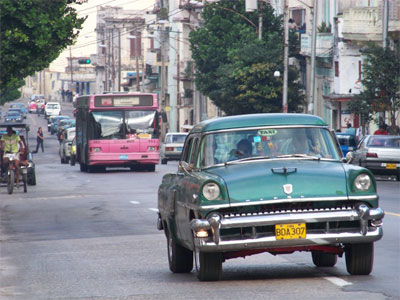 HAVANA TIMES — San Lazaro Street begins at the legendary steps of the University of Havana and ends near the no less famous Paseo del Prado esplanade.
It's a long street, possibly the longest in Havana, running through the municipalities of Revolution Square, Centro Habana and coming very close to Old Havana.
The section that runs from the from the university steps to Infanta Avenue is traveled and crossed every day by hundreds of college students. In the times of the Batista dictatorship, this was the site of many student demonstrations against the regime.
Along its route, this capital city artery cuts through the neighborhoods of Cayo Hueso, San Leopoldo and Colon. On it can be seen relatively modern buildings and architectural monuments to others dating from the 19th and early 20th centuries, some of these now in precarious condition.
On this street, where it intersects with Infanta Avenue, is also the modern Martyrs Park, which includes an interesting group of monuments in honor of the medical students who were shot by the Spanish colonial regime in 1871.
Antonio Maceo Park, which honors the "Bronze Titan"; the Hermanos Amejeiras Hospital, the largest and most modern hospital in Havana; and the Fragua Martiana, where Jose Marti served time in prison while still a teenager, are other attractions on this capital's busy street.
It's valid to point out that in the Yoruba religion, the biblical figure St. Lazarus is considered "Babalu Aye," which is why this name was given to an art studio/gallery located precisely on this street.

Click on the thumbnails below to view all the photos in this gallery. On your PC or laptop, you can use the directional arrows on the keyboard to move within the gallery. On cell phones use the keys on the screen.