Text and Photos by Irina Echarry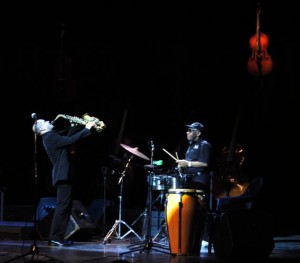 HAVANA TIMES, Dic. 1 — Leonardo Fabian Gil Milian and Alejandro Meroño Valle won the top prizes for Composition and Performance respectively at the 13th edition of the International JoJazz Competition in Havana.
Well received by the public, the festival was dedicated to both "Cachao" and to the string bass as an instrument. Participating as special guests in the opening gala were the Stefano di Battista Quartet, from Italy. It's members included pianist Roberto Tarenzi, bassist Francesco Puglisi, and drummer Roberto Pistolesi and the band leader.
A second part of the evening saw Jorge Reyes in charge as he took us on a musical journey through the history of the family of bassist Orlando "Cachaito" Lopez (1933-2009), inviting on stage numerous talents of the bass and of jazz in general – players such as Changuito, el Chispa, el Cuarteto Contrabajissimo, Emilio Morales and others.
The closing event on Sunday November 28 was headed up by veteran figures such as Bobby Carcasses, Alexis Bosch y su grupo and several of the winners of past JoJazz competitions.
Those awarded at this year's JoJazz 2010 were the following:
Composition Category: First place, Leonardo Fabian Gil Milian, with the song "Contradanza de Mi"; second place, Eduardo Barrueta Beña with "Orientalisimo"; while Alejandro Meroño Valle, author of the piece "Wakeup," took third.
Performance Category: pianist Alejandro Meroño Valle won first place, violinist William Roblejo second; as third was shared by saxophonist Pablo Faya Cordava and pianist Jorge Camilo Boss, all in the category of 21 to 30 year olds.
Among the 16 to 20 year-old contenders, trumpet player Roisel Alejandro Suarez walked away with the first place prize, second place was declared vacant, and the third went to saxophonist David Rodriguez Labrada.
Category of Small Group Format: the award was shared between the quintet Ta' bueno jazz and the William Roblejo Trio.
Perhaps it's important to point out the occasional flaws in the audio system at the Mella Theater during the competition, as well as one or two delays in schedules, but generally Jojazz 2010 turned out to be a good show in all senses.
Click on the tumbnails below to view all the photos in this gallery