The Main Havana Arts & Crafts Market
Photo feature by Elio Delgado Valdés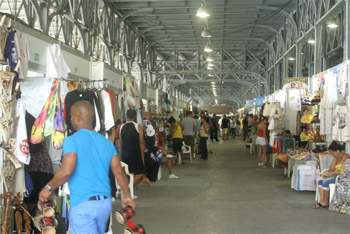 HAVANA TIMES — For years, Havana artisans had their center of exhibition and sale at the open-air Cathedral Square, but since November 2009, with the completion of the renovation and restoration of the old San Jose warehouses on Port Avenue, they now have a place protected from sunlight and rain to exhibit and market their crafts.
The warehouses, built in 1885 with the latest technology of the time, and have become a permanent cultural fair that also includes theatrical and music presentations.
Gradually, the place has become a center of attraction for Cubans and foreign visitors, ideal for a family outing.
The restoration of the old warehouses is the beginning of a larger work that, according to the Havana City Historian's office will, "give life and splendor to each of the corners of buildings and Avenida del Puerto".

Click on the thumbnails below to view all the photos in this gallery. On your PC or laptop, you can use the directional arrows on the keyboard to move within the gallery. On cell phones use the keys on the screen.