Photo feature by Elio Delgado Valdes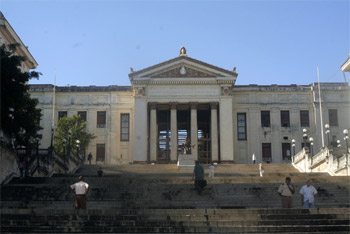 HAVANA TIMES, Feb 9 — The University of Havana is located on a hill in the Vedado neighborhood, but obviously it wasn't always there.
It was founded as the "Royal and Pontifical University of San Geronimo of Havana" all the way back on January 5, 1728, established in the San Juan de Letran Convent in the area that is now known as the Old Havana district.
Due to the location's poor conditions for teaching, it was decided to move the university to Arostegui Hill, and on May 1, 1902 the institution was relocated there, where it's situated today.
At the main entrance to the university is a wide staircase leading to the neo-classically designed administration building, which was inspired by the Greek Parthenon.
Behind the administration building is found a large square surrounded by buildings of the same architecture design. In one of them, at the end, is housed the main Ruben Martinez Villena Library, and along the side of the square are the colleges of law, mathematics and computer science.
Beyond this central square — where students assemble to discuss, argue, fall in love and even study — is the Aula Magna (or Main Hall) and other faculties, each occupying one of several buildings according to the original plan.
At the top of the stairs and in front of the administration building is a bronze statue named "Alma Mater" (Latin: "nourishing mother"), which is the symbol of this center of higher education.
For many years this was the only university in Cuba, at least until the creation of the University of Oriente – Santiago de Cuba (1947) and the University of Las Villas (1952).
After 1959, universities were spread across the country; today Cuba has 68 institutions of higher education.

Click on the thumbnails below to view all the photos in this gallery. On your PC or laptop, you can use the directional arrows on the keyboard to move within the gallery. On cell phones use the keys on the screen.