This Is Art, Lady, This Is Art
Maria Matienzo Puerto (Photos: Elio Delgado)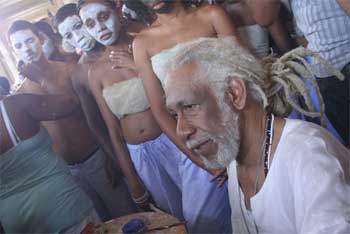 HAVANA TIMES — I still can't believe it, even though I have an infinite capacity for being amazed. The Havana Biennial arts festival (May 11-June 11) has now started its collateral exhibits and the artist Mendive joined in with a performance featuring a hundred naked bodies singing, dancing and displaying themselves as they walked along the Prado esplanade in the heart of Old Havana.
The piece is called "Cabezas" (Heads). But my surprise was not the nudity, which is always beautiful in each soul parading along, but with the comments this raised.
There were all types. From a few teenage girls who called even more attention to the performance with their giggling and their fingers pointing to indicate any supposed imperfections; to a soldier who was accompanying his son, who evidently was a young artist; to other youth indicating the "nerve" of those on parade; to the many people who focused on the half-naked women – with still others gawked at the naked men.
One indignant woman said: "What would have happened if I had brought my daughter here?" –  to which a sarcastic response came from out of nowhere saying, "This is art, lady, this is art."
We're not prepared for so many things, and the world is coming at us at a staggering pace. Like in a horror movie, Cuba is catching up with the rest of the world though people are still anchored in the port that allowed them to anchor.
Sadly, in the port of ignorance – even though schools here are free and anyone can go to the university?
I'm sure that our bodies are temples. They are our only real belongings. They are simply our charter of freedom. We are truly free when we establish a relationship with them, without taboos.
This includes, of course, hygiene, care, health, caressing, orgasms, masturbation or simply being proud of our figures and shapes. In short, this involves having a sincere relationship with ourselves.
The rest is up to others, and that can never be guaranteed.
But to my amazement — with all of the uninhibitedness we Cubans claim ourselves to be for some things — I thought that nudes on the Prado would be treated differently, not with teasing or moralistic scandalization.
I always thought, as was the case for many of the people who were there, that this performance by Mendive was a fiesta for life, for the spirit and for the body.
While Elizabeth took pictures, Mirna was interviewing and Amehel was laughing and threatening me with Facebook. I would have liked to have shared in the moment, seeing it through different eyes and enjoying it in another manner, without so much analysis – but that's me.
Luisito says that Havana needs thousands of undertakings like this. And I think that, between the heat and the prudishness, absolute nudity should be instituted in the street one day a week or once a month so that the daughter of the woman who protested can learn to change.

Click on the thumbnails below to view all the photos in this gallery. On your PC or laptop, you can use the directional arrows on the keyboard to move within the gallery. On cell phones use the keys on the screen.