Women Between Shadow and Light
By Irina Echarry, photos: Caridad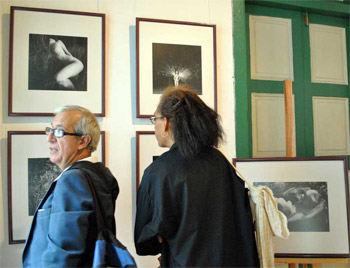 HAVANA TIMES, Nov 23 — The human body as the focus of the photographic image is hardly anything new. We Cubans have references of this from our artists of the lens.
However, a new opportunity here in the capital to appreciate curves, protrusions and convolutions between lights and shadows is shared through the eyes of a Japanese photographer: Masaya Nakamura.
The Asia House Museum (located at 111 Mercaderes, between Obra Pia and Obispo streets in Old Havana), is presenting through December 5th the exhibit entitled "Mujeres" (Women), where the distinguished photographer offers us — in black and white — her obsession with women.
This showing is made possible thanks to a selection of her art from Photokina 2010, a repository of works maintained by Japan's Institute of Camera and Industry.
Masaya Nakamura (1926-2001) devoted much of her craft to trying to capture in a click the souls of women, seemingly comparing them to the vibrations of nature.
In these images one can enjoy nudity in total freedom under the sky, be they presented on large rounded stones, in serene or raging waters, or contrasting or coalescing with the earth.
Many of these photos also take advantage of enclosed spaces, where lighting enhances the beauty and sensuality of the body.

Click on the thumbnails below to view all the photos in this gallery. On your PC or laptop, you can use the directional arrows on the keyboard to move within the gallery. On cell phones use the keys on the screen.