Off the Tourist Beat in Cuba's Pinar del Rio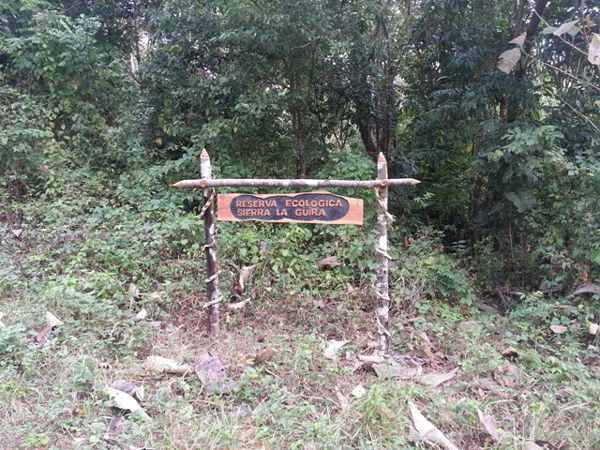 Graham Sowa
HAVANA TIMES — During a trip to Pinar del Rio I remembered what it means to be treated as a nobody and met a community organizer who has a machete.
Women sorting tobacco spilled out of the open air warehouse, separated from the road only by a rope that said "do not cross" in Spanish.
I approached with caution.  I am wary of tourist traps and the annoying, pushy Cuban men that spring them.
Even after no one appeared to offer me some bootlegged Cohibas I just kept staring at the women sorting tobacco; sort of expecting someone to point me toward an interpreter, guide, or some notice saying I needed to pay money to take pictures.  But nothing.  No tourist trap, no hard sell.
No one was going to do me the favor of justifying my weary disposition toward the locals.
The women just stared back at me without slowing the rate at which they peeled tobacco leaves from the stalks.  Their conversation also stayed the course; something about one of the soap operas I gathered.
The place was San Diego de los Baños and no one cared that I was there.  As a foreigner living in Havana during the tourist high season I assure you this is some sort of feeling that borders on an encounter with the divine.
I had gone off the tourist map to seek out a park, a place called Parque la Guira near the aforementioned town.  The Cubans discouraged me all the way to the front gate.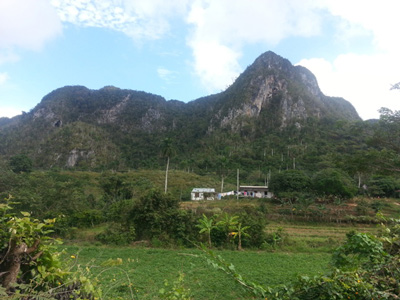 "Why do you want to go to a park so far away?  There are lots of parks in the city, just go to one of those!"  This is how several friends from Havana responded to my enquiry about the place.
"That place is destroyed!  It got blown to shit by two hurricanes!"  That was the gist of the local opinion in San Diego de los Baños.
The park proved to be about what I expected.  A former rich man´s country estate expropriated and decayed.
The setting is tranquil, even if it is interrupted by popular music from the ranchon style bar and restaurant.  There is enough human traffic to maintain at least one pack of stray dogs.
The park director (or sub-director, or some other title that comes with little power) was informative, and let me set up my tent even though camping is not part of the regular park services.
When I enquired about the swimming pool being empty I was told, pretty flatly, that it is too much work to get a lifeguard and someone to put in the chemicals.  So the pool stays empty and the workload stays light.
Having made the best that can be made of the park I decided to hike from the park to some caves that Che Guavera camped out at during the Cuban Missile Crisis.
The walk was 12 km, lots of up and down, but pretty easy since the day was overcast.  It would suck during the summer sun as the terrain is sparsely populated.
My first sign that I was regressing back to some type of populated area was a hand painted sign that said "Hypertensives:  Monday, Wednesday and Friday.  8-9AM."  It was initialed by the local government sports agency and serves to remind hypertensive patients of their exercise classes.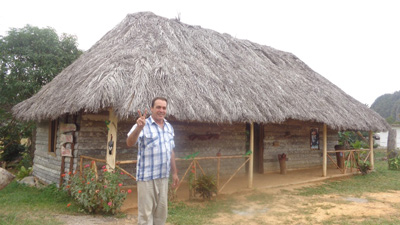 Basically it is the opposite of driving into a rural west Texas town and seeing a billboard for the Dairy Queen.
After seeing the sign I had to contend with several forks in the road that left me confused.
At the second crossroads a man came out of a house to greet me as though he had been waiting for me for hours.  Judging solely by his broad and tall stature at a distance I didn't size him up as a local farmer.
Miguel Antonio Remedios turns out to be a local, at least by birth, but not a farmer.  His is an artist.  He pitched me his story quickly and with passion.
Last year he gave up trying to compete in the crowded Havana art market and decided to move back to his family roots, near La Palma in Pinar del Rio.
He set up his studio, gallery, and a community space for teaching art classes and folkloric music to kids.  He has also opened a bakery and wants to dedicate some land to permaculture.
Basically he is putting some sweat equity into what most idealistic college types talk about in their dorm rooms.
He says the business in art sales is better in the middle of nowhere even though his prices are less than half of what he would get in a Havana gallery.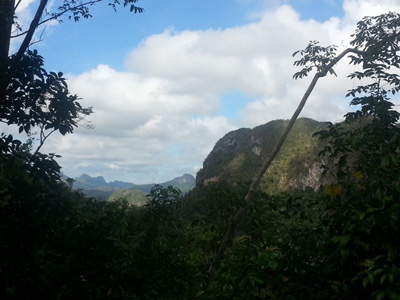 Miguel says he genuinely likes the work out in the countryside compared to the city.  Judging by the dirt underneath his fingernails I am predisposed to take him at his word.
I asked if the government helped him out.  He said at first some people from the cultural ministry said some encouraging words to him, but then nothing came of it.  I asked what he would do if some official figure tried to close down his community project.  "Well, I have a machete,"  he replied.
After Miguel invited me for some coffee and encouraged me to return whenever I wanted I set off for the caves with good directions.
The caves are not long dark passages; more accurately they are spectacular caverns open at both ends to the sun and elements.  They were worth the trip.
An old man keeps a key at the entrance of the caverns which opens the door of a cinder block room that Che once stayed in.  He gave me charge of the key, saying he was tired of walking back and forth.
There is a well maintained Campismo Popular which has cabins at 48 Pesos Cubanos per day.  A meal costs 9 Pesos Cubanos and was better than most Havana restaurants in portion and quality.  The music piped through large speakers comes at no additional charge.
Both of these trips are within an hour's drive of Viñales and offer experiences free of pushy bootlegged Cohiba salesmen.

Click on the thumbnails below to view all the photos in this gallery. On your PC or laptop, you can use the directional arrows on the keyboard to move within the gallery. On cell phones use the keys on the screen.